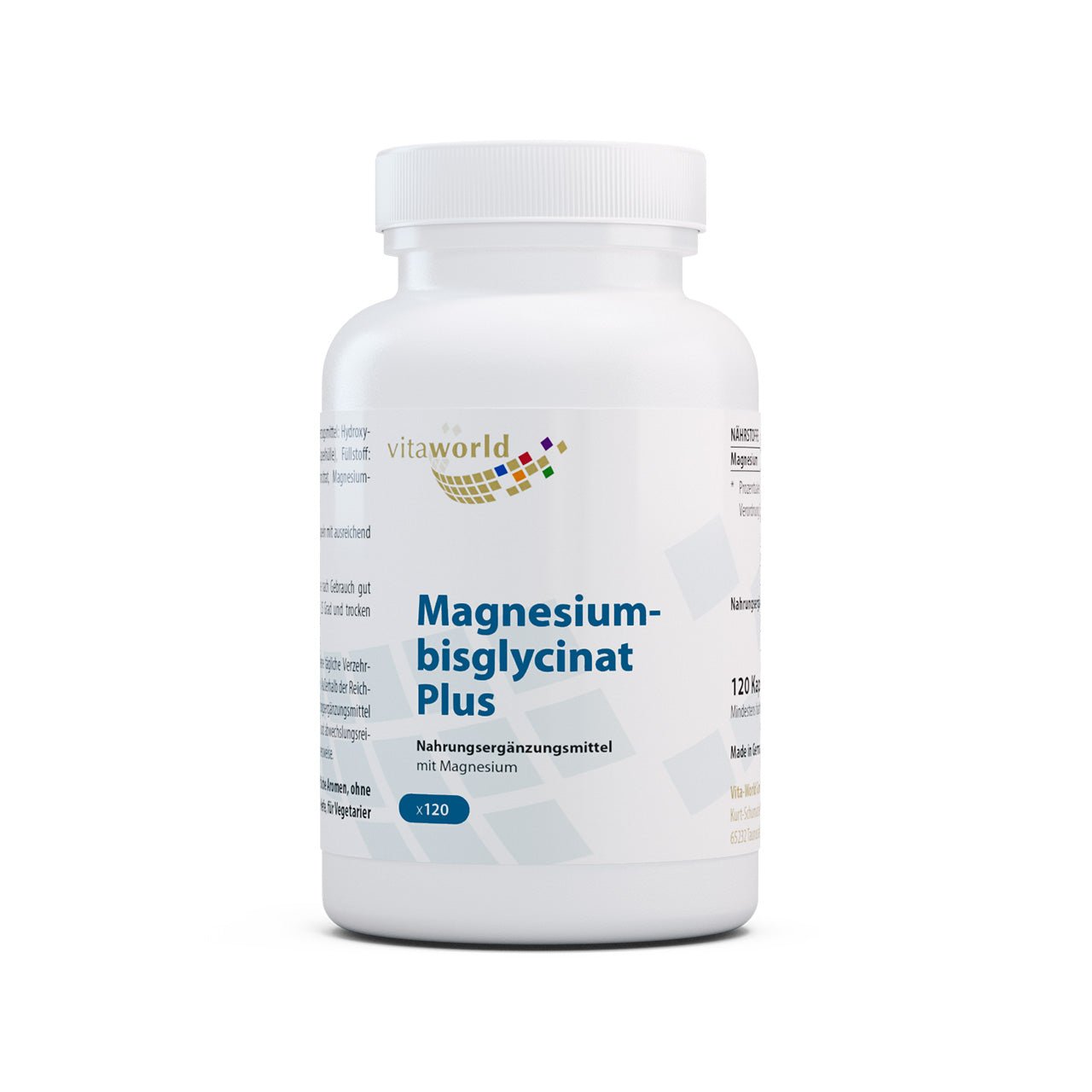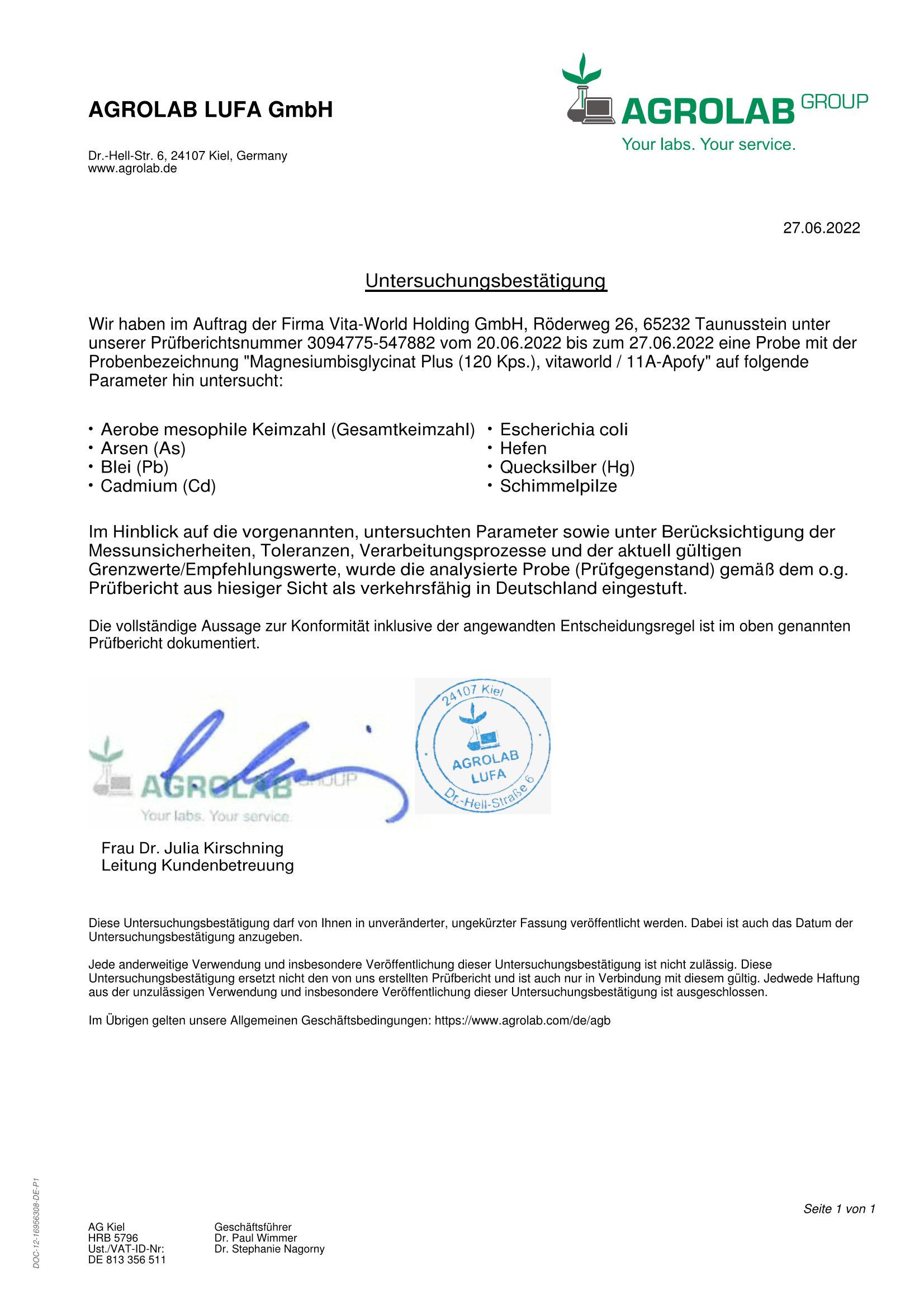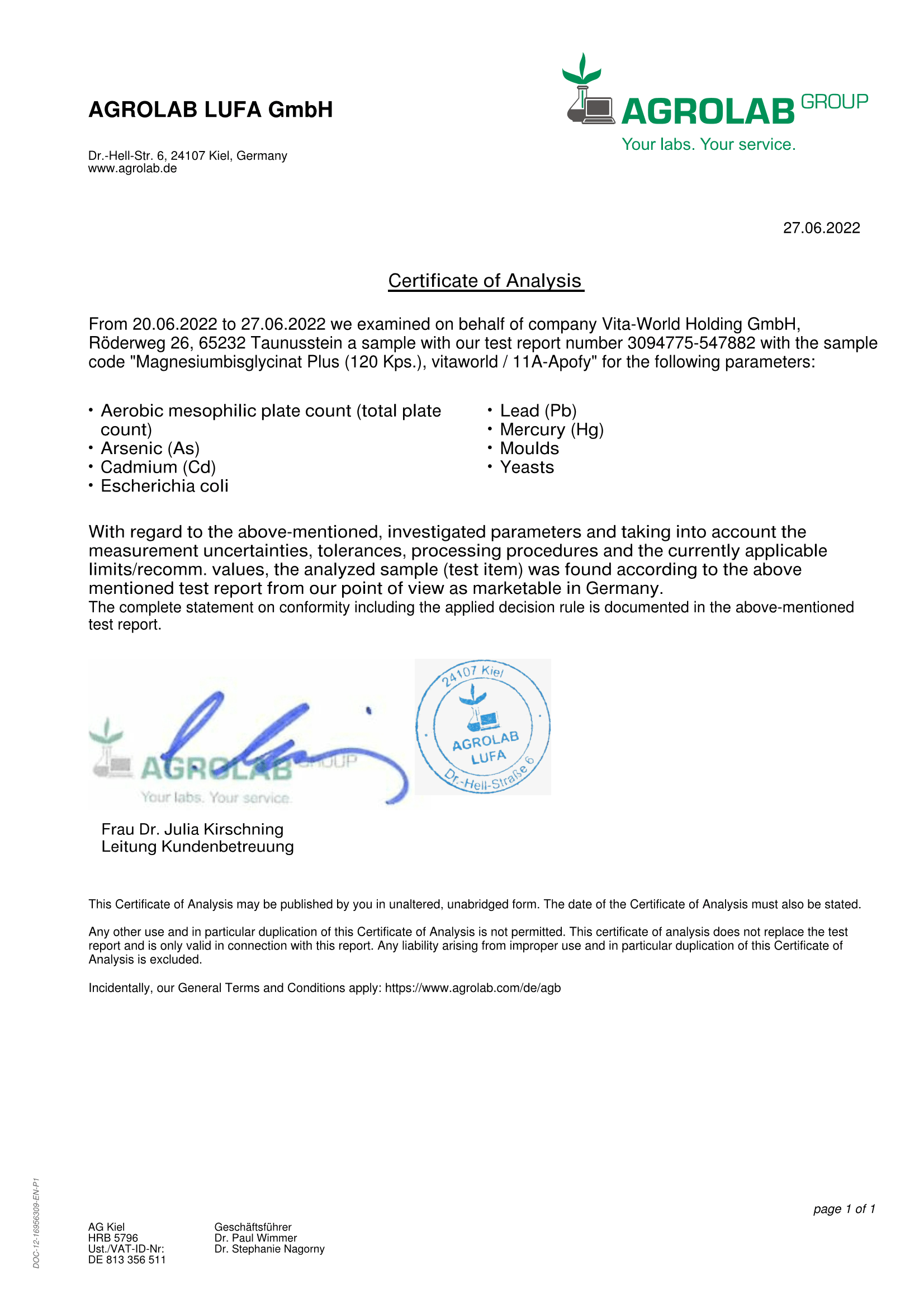 Magnesium Bisglycinate Plus (120 caps)
Translation missing: en.products.product.price.regular_price
€19,90
Translation missing: en.products.product.price.sale_price
€19,90
Translation missing: en.products.product.price.regular_price
€24,90
Tax included.
Voraussichtliche Zustellung:Oct 10 - Oct 14

Kostenlose Lieferung: für alle Bestellungen ab €200

Guaranteed Safe & Secure Checkout
Magnesium Bisglycinate Plus (120 caps)
Beschreibung
Versand
Produktbewertungen
For muscles and nerves - Magnesium bisglycinate Plus

Magnesium is one of the vital minerals that the body cannot produce itself and must be supplied through food. The mineral is essential for many processes in the body, including primarily energy metabolism, vital muscle functions and important biochemical processes within the muscles and nerves. If the body does not have enough magnesium, the membranes become more permeable to sodium, potassium and calcium, which increases the excitability of the nerve cells and thus the tendency to muscle cramps. Magnesium stabilizes the cell membranes, reduces the excitability of the nerve cells and thus contributes to normal muscle function. If there is an undersupply of magnesium, the body uses the magnesium in the bones or body cells to ensure a constant magnesium level in the blood. A magnesium deficiency would therefore also have negative consequences for otherwise vital bones.
The daily magnesium requirement for adults is around 300 to 400 mg, and somewhat higher for pregnant and breastfeeding women. Factors such as heavy sweating during physical activity or insufficient fluid intake can also lead to an increased need for magnesium. The magnesium bisglycinate used in this product is an organic magnesium compound in which the magnesium is attached to an amino acid (glycine). With the advantage that the amino acid protects the sensitive mucous membranes in the digestive tract from irritation caused by the magnesium.
Magnesium bisglycinate is therefore considered to be particularly well tolerated and, compared to other magnesium compounds, rarely causes diarrhea. In addition, thanks to the amino acid, the magnesium can be absorbed very well, since it does not have to go through the usual absorption pathways.
Alle Bestellungen werden in der Regel innerhalb von 3 Werktagen bearbeitet. An Sonn- und Feiertagen werden keine Bestellungen versandt oder zugestellt.
Unser bevorzugter Lieferant ist DHL. Die Versandkosten für Ihre Bestellung werden an der Kasse berechnet und angezeigt. Wir akzeptieren Rücksendungen bis zu 14 Tage nach der Lieferung, wenn der Artikel unbenutzt und in seinem ursprünglichen Zustand ist. Wir erstatten Ihnen den vollen Bestellwert.