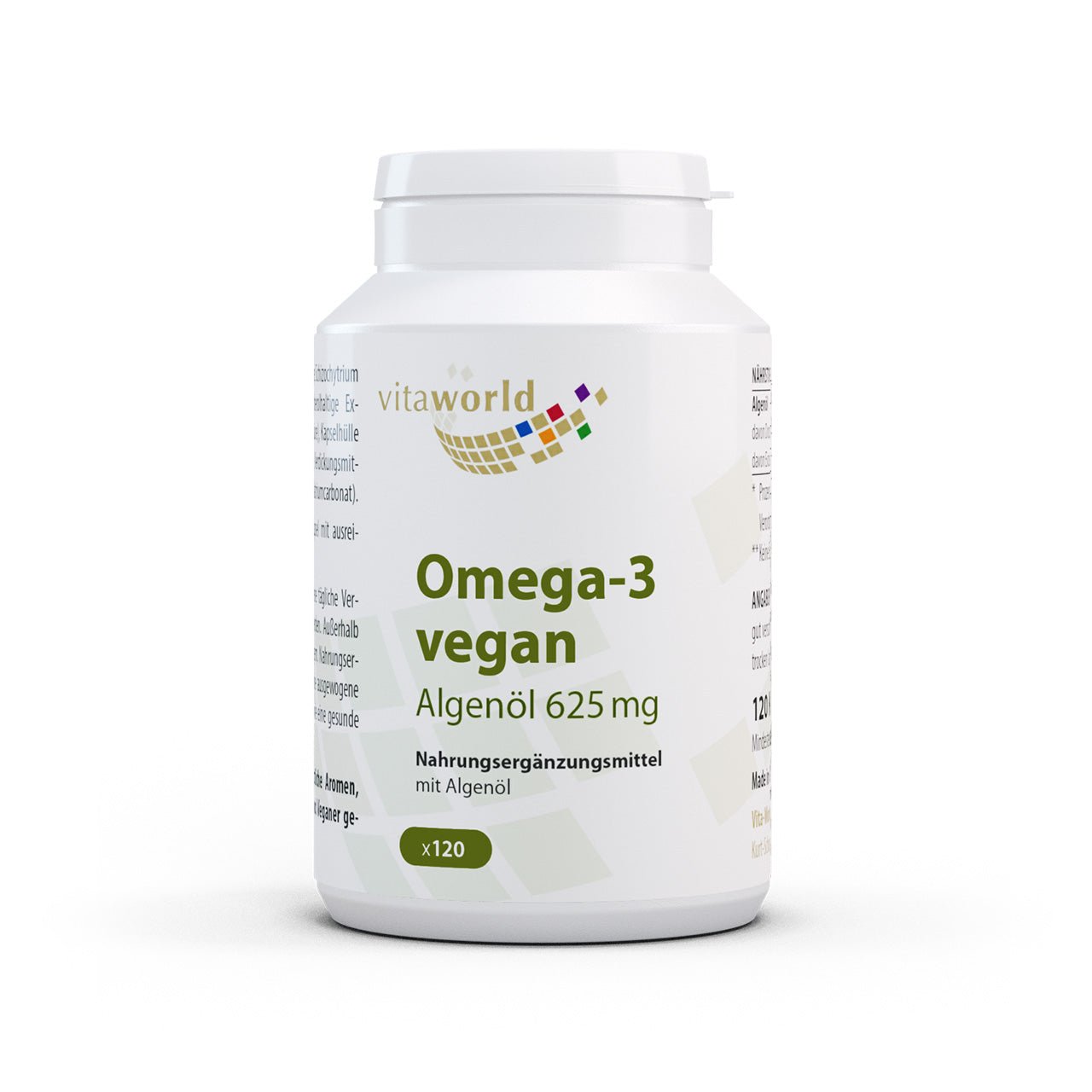 Translation missing: en.products.product.price.regular_price
€39,90
Translation missing: en.products.product.price.sale_price
€39,90
Translation missing: en.products.product.price.regular_price
€47,90
Tax included.
Voraussichtliche Zustellung:Oct 10 - Oct 14

Kostenlose Lieferung: für alle Bestellungen ab €200

Guaranteed Safe & Secure Checkout
Beschreibung
Versand
Produktbewertungen
The vegan alternative - omega 3 from microalgae
So far, it has been difficult for vegans and vegetarians to consume enough valuable marine omega-3 fatty acids, EPA and DHA, which are mainly found in oily cold-water fish. There is now a purely plant-based alternative, the marine microalgae Schizochytrium sp. (the basic food of these fish). The microalgae, as the original source of omega-3 fatty acids, produce large amounts of DHA and smaller amounts of EPA.

According to studies, many Central Europeans consume on average less than the recommended amount of omega-3 fatty acids through food . In addition, an increased intake of EPA and DHA is recommended for people who are physically active above average. According to a statement by the EFSA (European Food Safety Authority), a daily dose of 250 mg DHA and EPA has a positive effect on heart function, and 250 mg DHA on vision and brain function. According to an EU expert commission, pregnant women should ensure that their bodies are supplied with at least 200 mg of DHA every day. With such quantities, a vegan alternative protects the environment and conscience.
The microalgae used for our Omega 3 are not taken from the sea. The breeding takes place in special organic fermenters and is absolutely sustainable due to the protection of the environment and resources. The closed system means there is no contact with environmental contamination.
After the cell walls of the algae have been broken open, the oil contained is accessible. The algae oil is produced in a virtually oxygen-free processing environment, so it is optimally protected against oxidation.
It is also interesting that the microalgae do not accumulate any iodine due to the cultivation in a closed system with specific nutrient solutions. If small amounts of iodine are still contained in the microalgae, this is further removed in the further production process.
Due to legal requirements, we are unfortunately not allowed to provide any information on the use and effects of our products. Please find out more from your doctor or non-medical practitioner or from specialist literature and specialist websites on the Internet.
Alle Bestellungen werden in der Regel innerhalb von 3 Werktagen bearbeitet. An Sonn- und Feiertagen werden keine Bestellungen versandt oder zugestellt.
Unser bevorzugter Lieferant ist DHL. Die Versandkosten für Ihre Bestellung werden an der Kasse berechnet und angezeigt. Wir akzeptieren Rücksendungen bis zu 14 Tage nach der Lieferung, wenn der Artikel unbenutzt und in seinem ursprünglichen Zustand ist. Wir erstatten Ihnen den vollen Bestellwert.