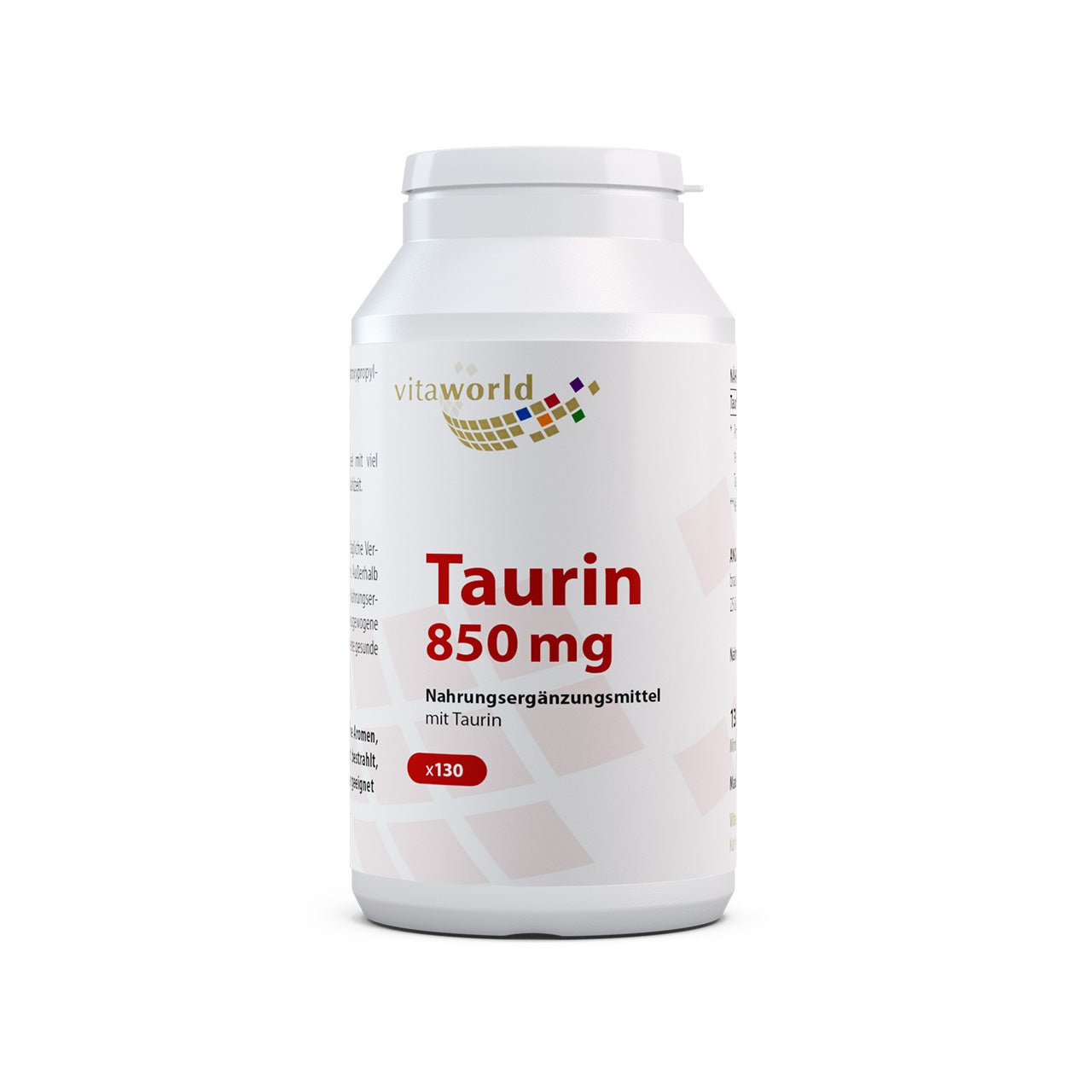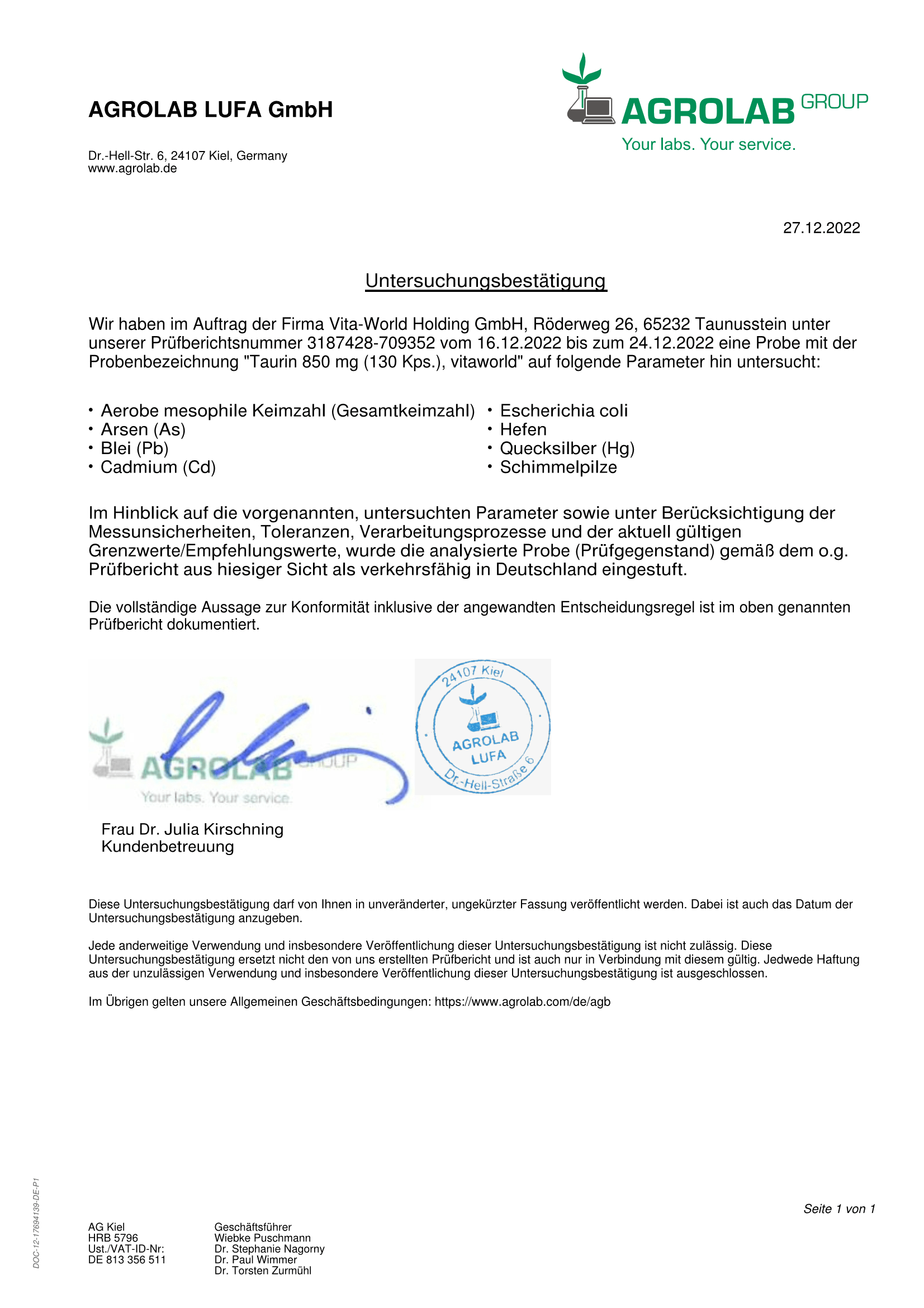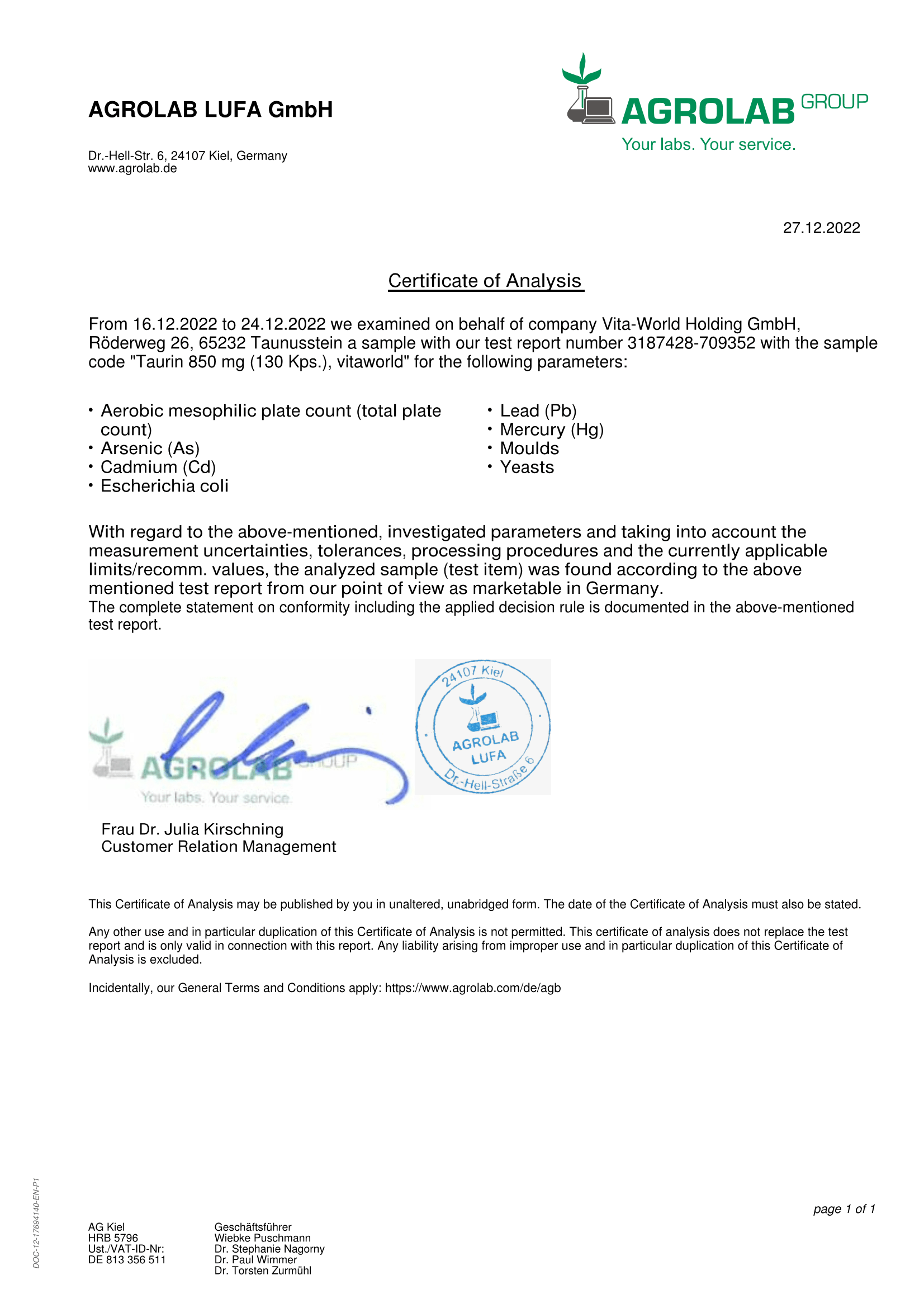 Taurine 850 mg (130 caps)
Translation missing: en.products.product.price.regular_price
€19,90
Translation missing: en.products.product.price.sale_price
€19,90
Translation missing: en.products.product.price.regular_price
€24,90
Tax included.
Voraussichtliche Zustellung:Oct 10 - Oct 14

Kostenlose Lieferung: für alle Bestellungen ab €200

Guaranteed Safe & Secure Checkout
Taurine 850 mg (130 caps)
Beschreibung
Versand
Produktbewertungen
The body's natural energizer - taurine
Taurine is a metabolite of the amino acids cysteine ​​and methionine, is produced by the body itself and is not one of the amino acids itself .
The taurine content in the body is surprisingly high. It is estimated that a person weighing 70 kg has around 70 g of taurine in their body. The taurine content is particularly high in the muscle cells, but the brain, heart and blood also show an increased concentration of taurine. However, one of the most important effects of taurine is that it promotes signal transmission from nerve cells, as it facilitates the movement of sodium and potassium through cell membranes. Whether in the muscles, in the blood or in the brain, taurine is always involved.
Due to legal requirements, we are unfortunately not allowed to provide any information on the use and effects of our products. Please find out more from your doctor or non-medical practitioner or from specialist literature and specialist websites on the Internet.
Alle Bestellungen werden in der Regel innerhalb von 3 Werktagen bearbeitet. An Sonn- und Feiertagen werden keine Bestellungen versandt oder zugestellt.
Unser bevorzugter Lieferant ist DHL. Die Versandkosten für Ihre Bestellung werden an der Kasse berechnet und angezeigt. Wir akzeptieren Rücksendungen bis zu 14 Tage nach der Lieferung, wenn der Artikel unbenutzt und in seinem ursprünglichen Zustand ist. Wir erstatten Ihnen den vollen Bestellwert.