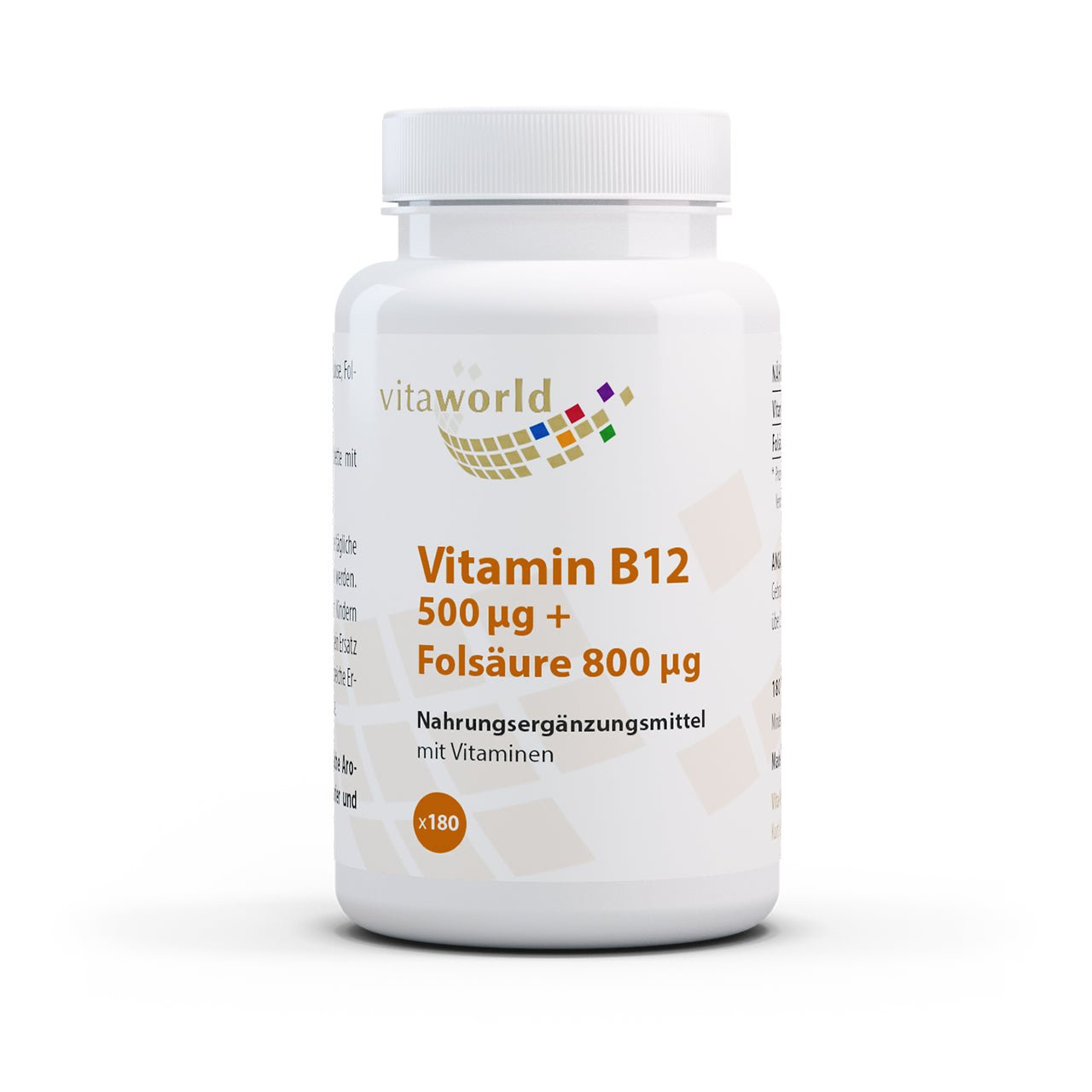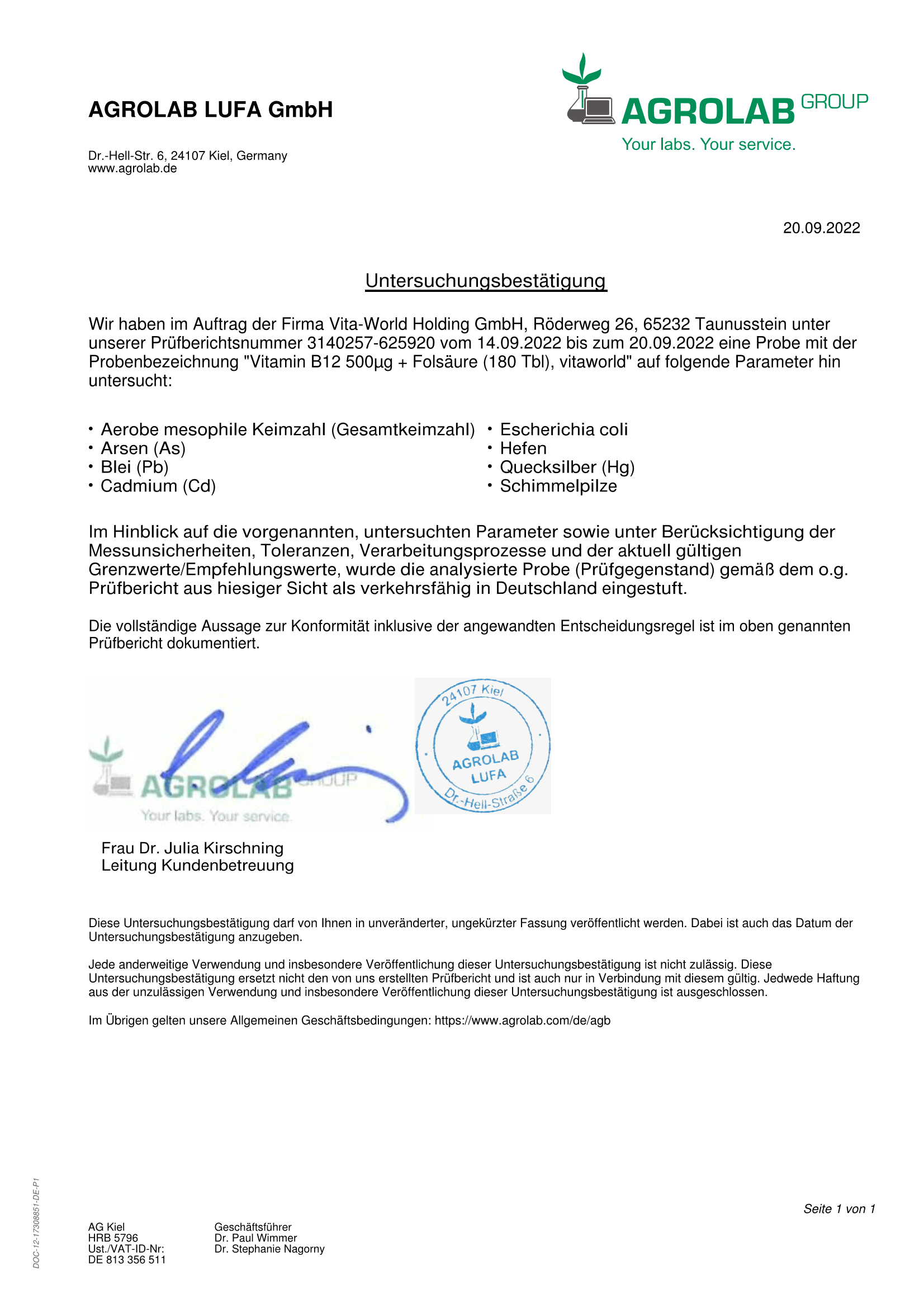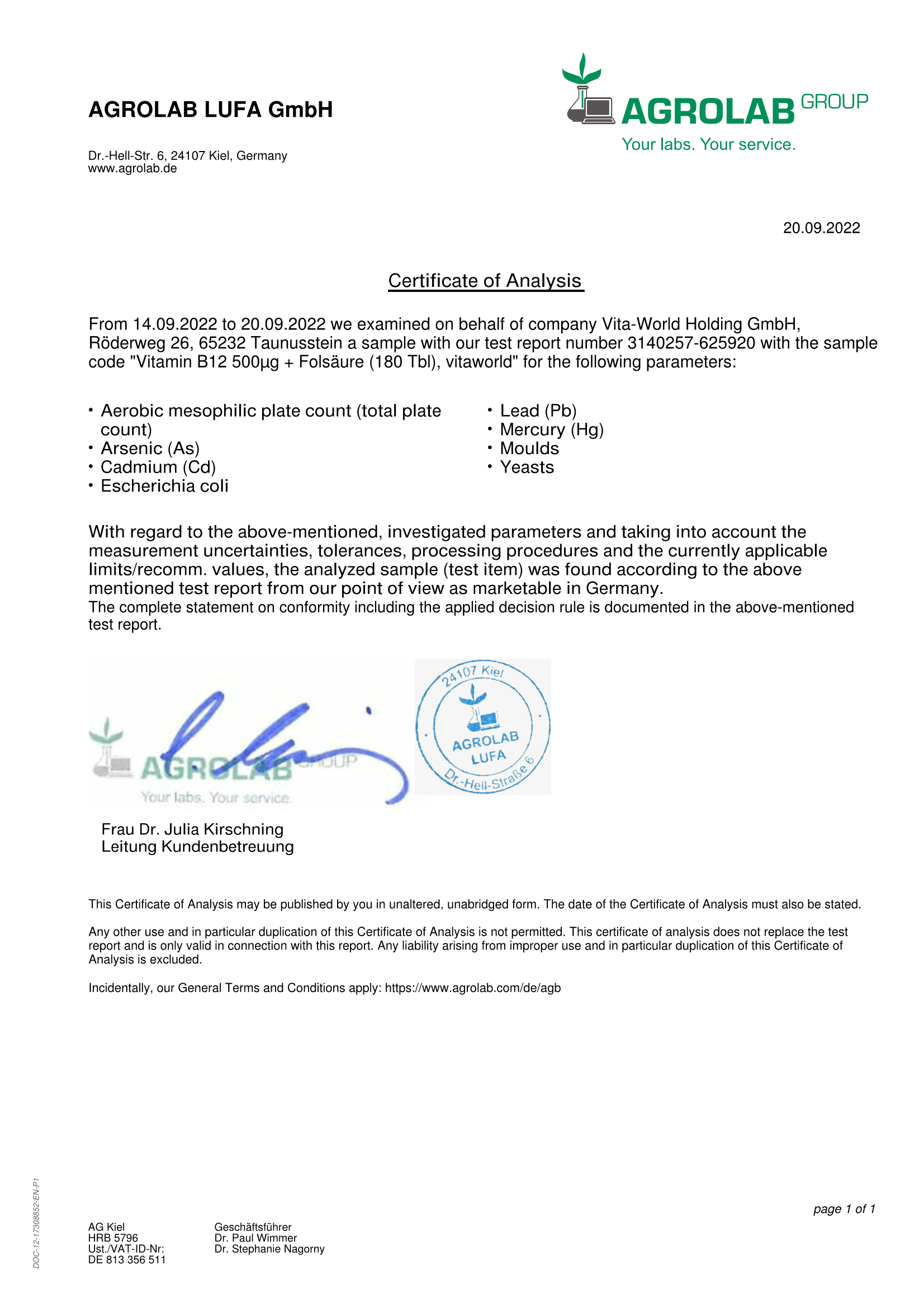 Vitamin B12 500 µg + folic acid 800 µg (180 Tbl)
Translation missing: en.products.product.price.regular_price
€17,90
Translation missing: en.products.product.price.sale_price
€17,90
Translation missing: en.products.product.price.regular_price
€19,90
Tax included.
Voraussichtliche Zustellung:Oct 10 - Oct 14

Kostenlose Lieferung: für alle Bestellungen ab €200

Guaranteed Safe & Secure Checkout
Vitamin B12 500 µg + folic acid 800 µg (180 Tbl)
Beschreibung
Versand
Produktbewertungen
The perfect duo to support your metabolism - vitamin B12 + folic acid


Vitamin B12 and folic acid belong to the group of water-soluble vitamins. The organism smuggles them into the bloodstream via the wall of the small intestine. Vitamin B12 and folic acid are not produced by the body itself, but must be ingested through food.
Vitamin B12 is mainly found in animal foods such as meat, eggs and cheese. Since vitamin B12 plays an important role in the human body, it is important for vegetarians and vegans to cover their vitamin B12 needs from other sources.
The need for folic acid can be easily met with fresh Cover vegetables, legumes, and whole grains. Unfortunately, these foods are often not enough on the menu.
A sufficient supply of vitamin B12 and folic acid is recommended, since both vitamins are involved in many metabolic processes. Both contribute to a normal function of the immune system and the psyche, as well as a normal homocysteine ​​metabolism. It also reduces tiredness and fatigue.
Vitamin B12 also contributes to the normal functioning of the nervous system and folic acid to the growth of maternal tissue during pregnancy.


Due to legal requirements, we are unfortunately not allowed to provide any information on its use and effect of our products. Please find out more from your doctor or non-medical practitioner or from specialist literature and specialist websites on the Internet.
Alle Bestellungen werden in der Regel innerhalb von 3 Werktagen bearbeitet. An Sonn- und Feiertagen werden keine Bestellungen versandt oder zugestellt.
Unser bevorzugter Lieferant ist DHL. Die Versandkosten für Ihre Bestellung werden an der Kasse berechnet und angezeigt. Wir akzeptieren Rücksendungen bis zu 14 Tage nach der Lieferung, wenn der Artikel unbenutzt und in seinem ursprünglichen Zustand ist. Wir erstatten Ihnen den vollen Bestellwert.