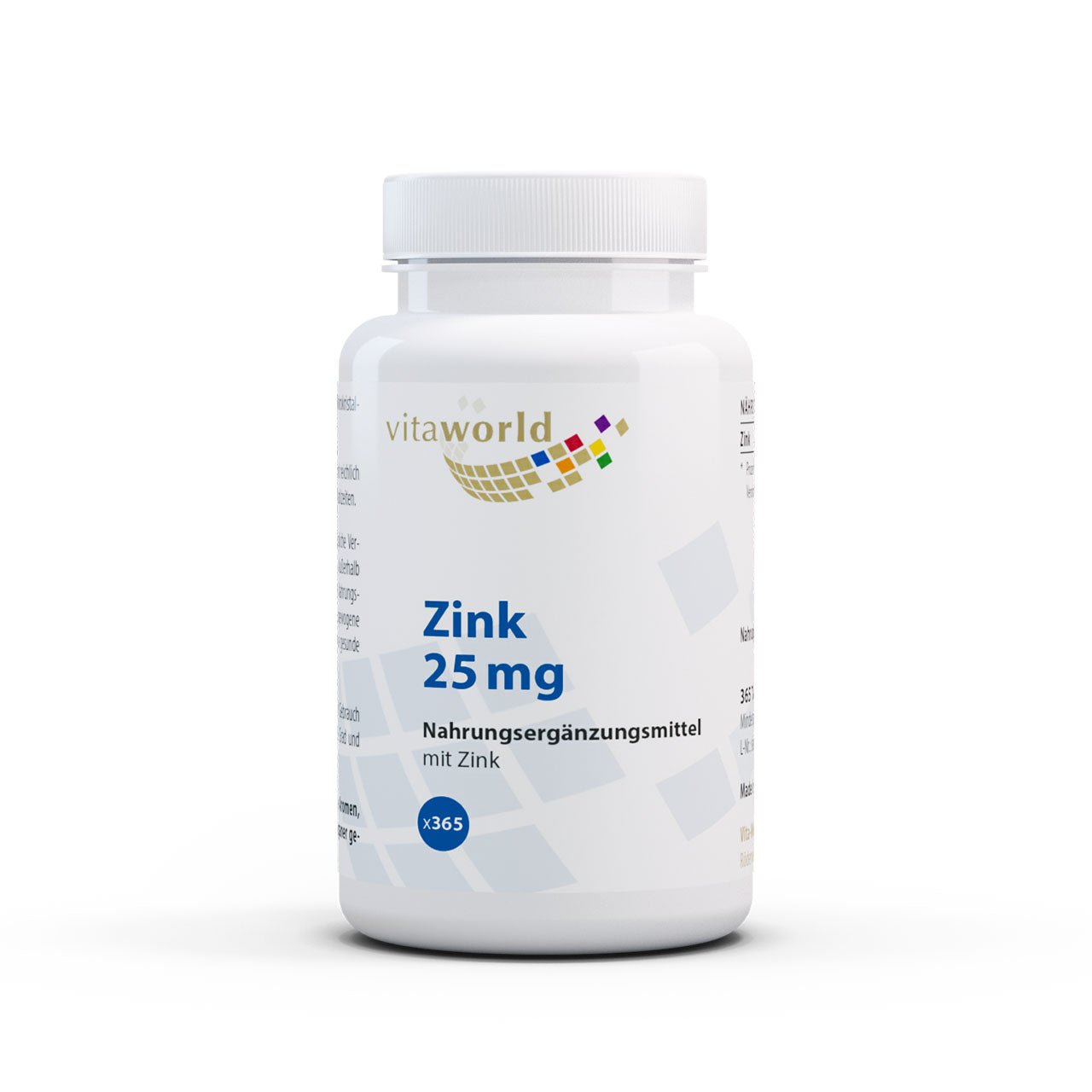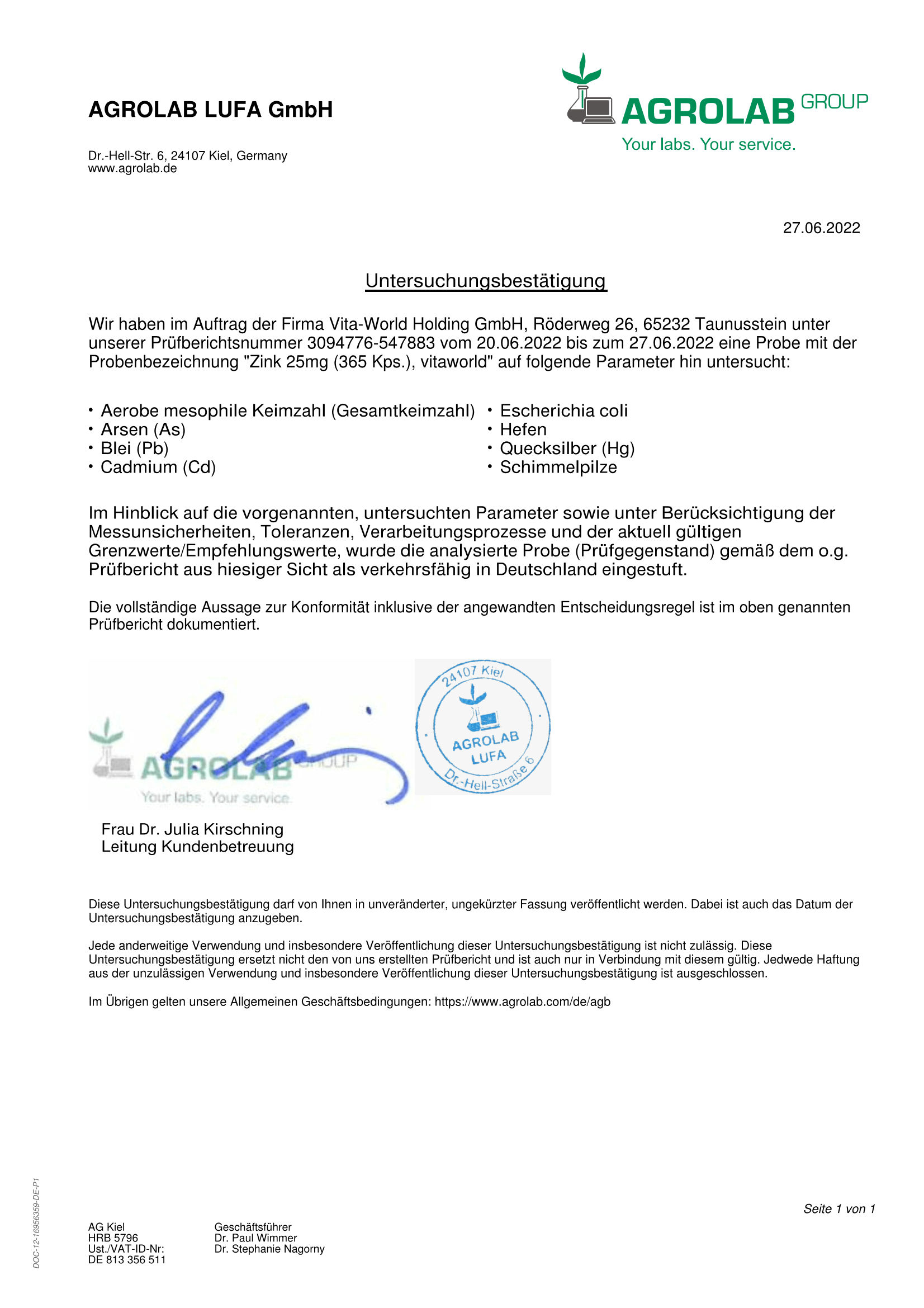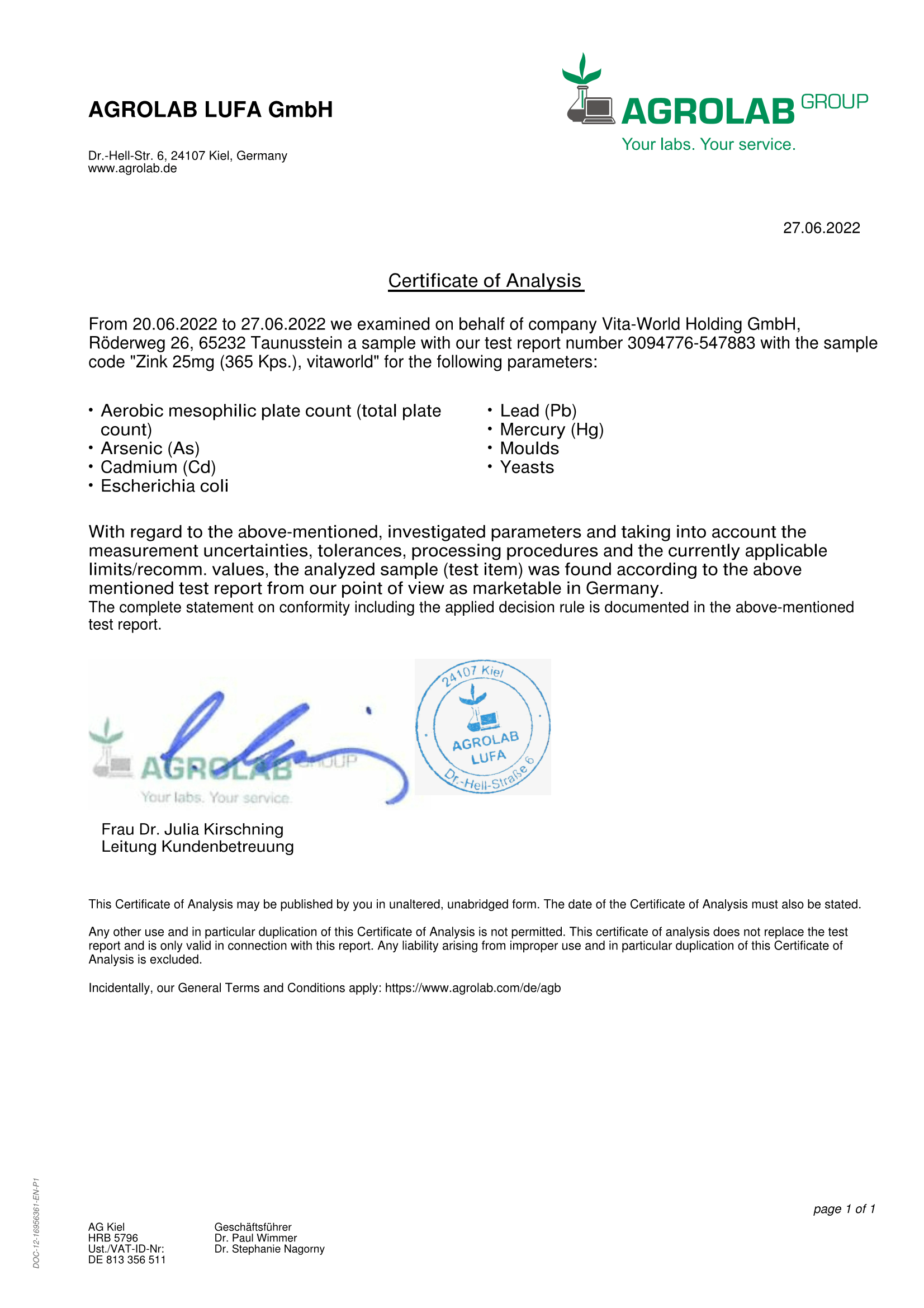 Translation missing: en.products.product.price.regular_price
€19,90
Translation missing: en.products.product.price.sale_price
€19,90
Translation missing: en.products.product.price.regular_price
€24,90
Tax included.
Voraussichtliche Zustellung:Oct 10 - Oct 14

Kostenlose Lieferung: für alle Bestellungen ab €200

Guaranteed Safe & Secure Checkout
Beschreibung
Versand
Produktbewertungen
Important daily - zinc 25 mg
Zinc is one of the vital trace elements that the body cannot produce itself and therefore has to absorb with food. The body needs the essential trace element for numerous metabolic processes, starting with protein synthesis and cell division, through many hormones that cannot do without zinc, to the immune system, digestion, blood formation and sperm production, for which zinc is essential. Since the body does not have a zinc store, a daily intake of zinc is recommended. In addition to oysters, which contain a particularly high amount of zinc, foods with a high zinc content include beef, seafood, sea fish, cheese and other dairy products, as well as eggs and whole grain foods. It should be noted that zinc from animal foods can be better utilized by the body than zinc from plant sources.
For healthy people, an intake of approx. 15 mg per day is recommended, for pregnant and breastfeeding women the recommendation is approx. 25 mg, as they have a higher daily requirement. An increased intake of zinc is sometimes recommended for athletes as well, since they lose part of the important trace element again through sweat and additional physical exertion as well as stress can lead to a higher zinc requirement. Since vegetarians and vegans, due to their plant-based diet, take in more phytic acid, which together with zinc forms an insoluble compound that prevents zinc intake, an increased intake can also make sense for them.
The zinc bisglycinate used in this product is an organic zinc compound in which the zinc is bound to an amino acid (glycine). Organic compounds have a particularly high bioavailability.
Alle Bestellungen werden in der Regel innerhalb von 3 Werktagen bearbeitet. An Sonn- und Feiertagen werden keine Bestellungen versandt oder zugestellt.
Unser bevorzugter Lieferant ist DHL. Die Versandkosten für Ihre Bestellung werden an der Kasse berechnet und angezeigt. Wir akzeptieren Rücksendungen bis zu 14 Tage nach der Lieferung, wenn der Artikel unbenutzt und in seinem ursprünglichen Zustand ist. Wir erstatten Ihnen den vollen Bestellwert.