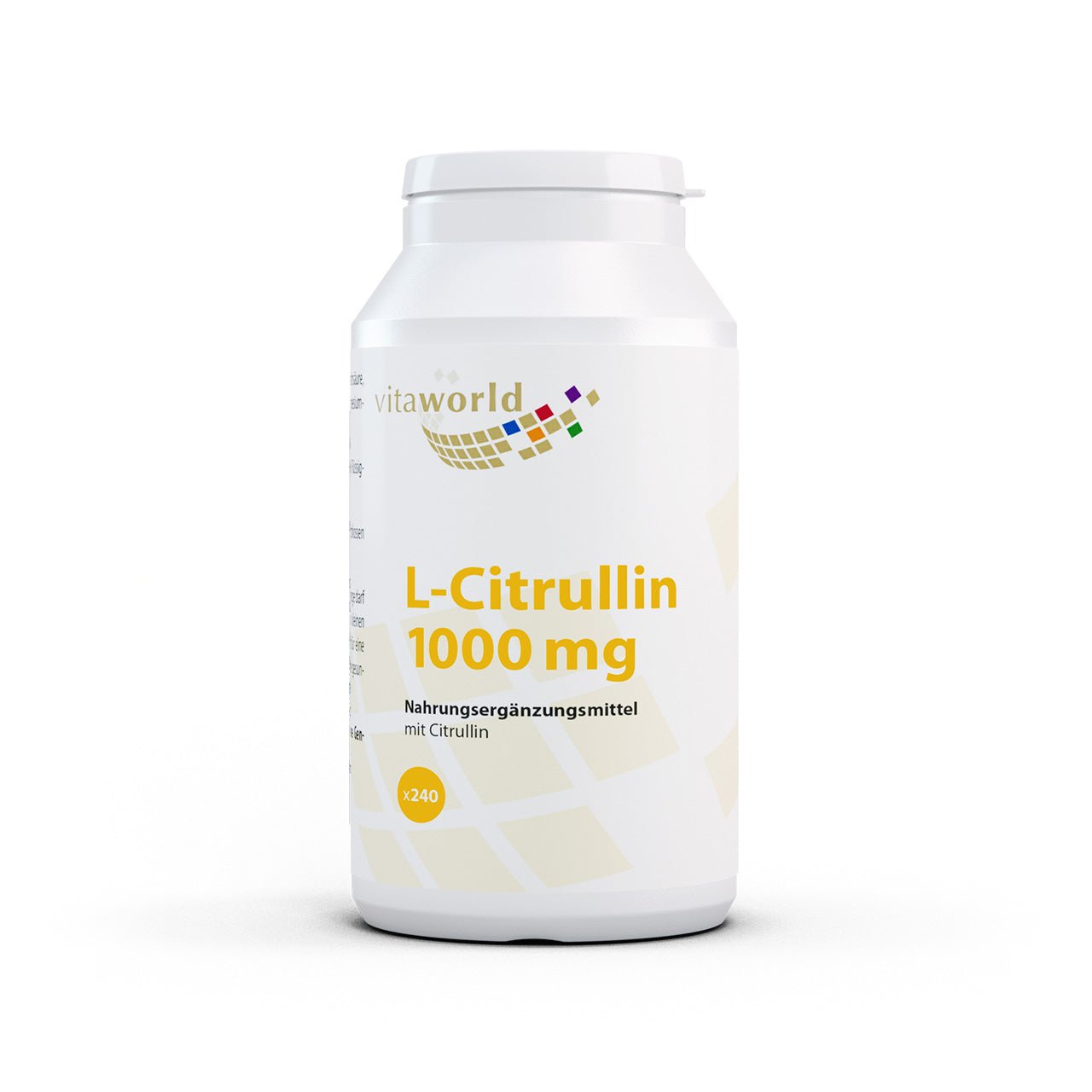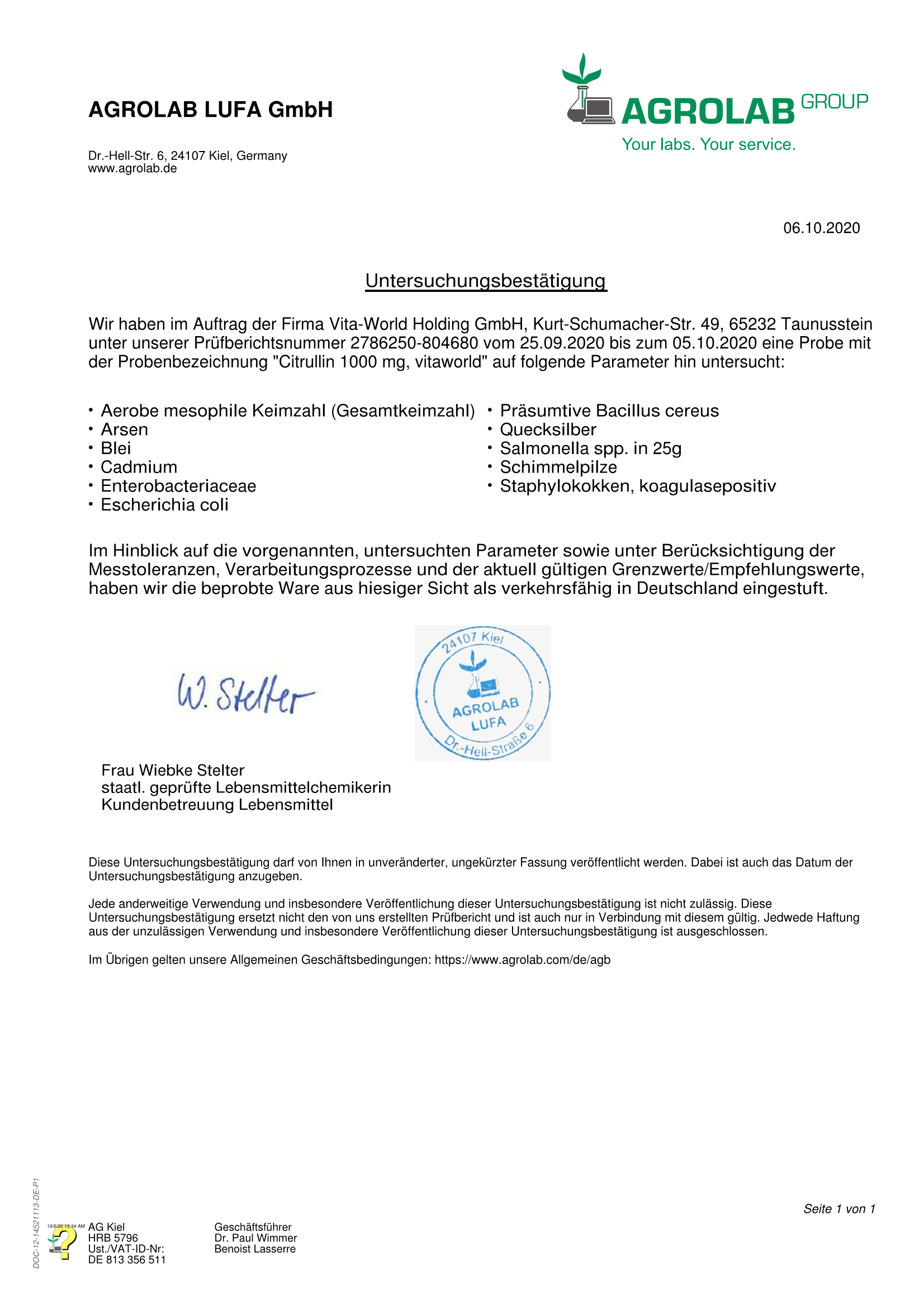 Citrulline 1000 mg (240 Tbl)
Translation missing: en.products.product.price.regular_price
€44,90
Translation missing: en.products.product.price.sale_price
€44,90
Translation missing: en.products.product.price.regular_price
€49,90
Tax included.
Voraussichtliche Zustellung:Oct 10 - Oct 14

Kostenlose Lieferung: für alle Bestellungen ab €200

Guaranteed Safe & Secure Checkout
Citrulline 1000 mg (240 Tbl)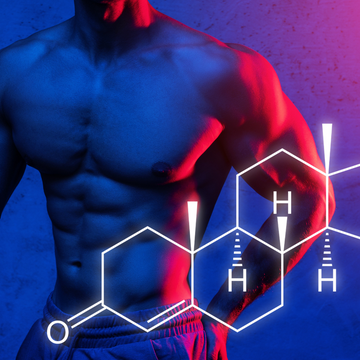 Steigert die sportliche Leistungsfähigkeit
Einer der wichtigsten Vorteile von L-Citrullin ist seine Fähigkeit, die Stickoxidproduktion im Körper zu erhöhen. Stickstoffmonoxid ist ein Molekül, das die Blutgefäße entspannt und weitet und so eine erhöhte Durchblutung ermöglicht. Dieser erhöhte Blutfluss kann dazu beitragen, die Ausdauer zu verbessern, die Müdigkeit zu verringern und das Muskelwachstum und die Erholung zu fördern. Außerdem wurde festgestellt, dass L-Citrullin die Ausdauer beim Sport erhöht. Das liegt daran, dass es dazu beiträgt, die Produktion von ATP zu erhöhen, das die primäre Energiequelle für den Körper während des Trainings ist. Durch die Erhöhung der ATP-Produktion kann L-Citrullin den Sportlern helfen, über längere Zeiträume bessere Leistungen zu erbringen.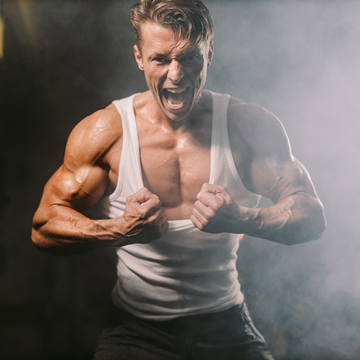 Verbessert die kardiovaskuläre Gesundheit
L-Citrullin ist dafür bekannt, dass es die Produktion von Stickstoffmonoxid im Körper erhöht. Stickstoffmonoxid ist ein Vasodilatator, der zur Entspannung und Erweiterung der Blutgefäße beiträgt und so den Blutfluss verbessert. Dieser erhöhte Blutfluss kann dazu beitragen, dass die Muskeln während des Trainings mit mehr Sauerstoff und Nährstoffen versorgt werden, was zu einer besseren Leistung und zu einem stärkeren Muskelpump führt.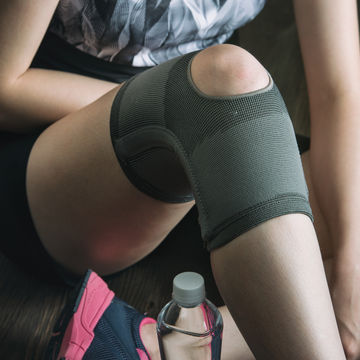 Stärkt das Immunsystem & verbessert die Erholung
L-Citrullin trägt auch zur Verringerung des Muskelkaters nach dem Training bei. Dies liegt daran, dass es dem Körper hilft, während des Trainings mehr Energie zu produzieren, was wiederum dazu beiträgt, die Menge der auftretenden Muskelschäden zu verringern. Außerdem verbessert L-Citrullin nachweislich die Durchblutung der Muskeln, was ebenfalls zur Verringerung des Muskelkaters beitragen kann. Studien haben gezeigt, dass L-Citrullin auch die Funktion des Immunsystems unterstützen kann. Dies liegt daran, dass es dazu beiträgt, die Produktion von Arginin zu erhöhen, einer anderen Aminosäure, die eine Schlüsselrolle bei der Funktion des Immunsystems spielt. Indem es die Funktion des Immunsystems stärkt, kann L-Citrullin Sportlern helfen, sich schneller von Krankheiten oder Verletzungen zu erholen.
Beschreibung
Versand
Produktbewertungen
Stay resilient - with L-citrulline

Citrulline is a non-essential amino acid found in watermelons, cucumbers and other foods. It is also naturally produced by the body. In the body, citrulline is converted to arginine, another amino acid that helps form nitric oxide. Nitric oxide is a gas that helps relax blood vessels, which can improve blood flow and oxygen delivery to muscles.
In the sports and fitness arena, citrulline has become a popular dietary supplement due to its ability to enhance athletic performance. Several studies have shown that citrulline improves athletic performance by increasing blood flow and reducing fatigue. This is because citrulline helps increase the production of nitric oxide, which relaxes blood vessels and allows for better blood flow. The improved blood circulation can lead to a better supply of oxygen and nutrients to the muscles, which can improve endurance and regeneration.

Citrulline has also been studied for its potential health benefits. It has been shown to help lower blood pressure and improve cardiovascular health by promoting healthy blood flow. Citrulline may also have a positive effect on the immune system, helping to reduce inflammation and protect against certain diseases. In addition, citrulline has been found to be beneficial for people with erectile dysfunction. This is because citrulline can help increase blood flow in the genital area, which can improve the ability to have an erection.
Overall, citrulline is a versatile amino acid that has both athletic and health benefits. Whether you're looking to improve athletic performance or support your overall health, citrulline may be worth considering as part of your nutritional supplementation program.
Due to legal requirements, we are unfortunately not allowed to provide any information on the use and effects of our products. Please find out more from your doctor or non-medical practitioner or from specialist literature and specialist websites on the Internet.
Alle Bestellungen werden in der Regel innerhalb von 3 Werktagen bearbeitet. An Sonn- und Feiertagen werden keine Bestellungen versandt oder zugestellt.
Unser bevorzugter Lieferant ist DHL. Die Versandkosten für Ihre Bestellung werden an der Kasse berechnet und angezeigt. Wir akzeptieren Rücksendungen bis zu 14 Tage nach der Lieferung, wenn der Artikel unbenutzt und in seinem ursprünglichen Zustand ist. Wir erstatten Ihnen den vollen Bestellwert.
Makes a difference
"I have been using Citrulline 1000 mg as part of my pre-workout routine, and I can confidently say it has made a noticeable difference in my exercise performance. I feel more energized, and my endurance has significantly improved. The muscle pump I experience during my workouts is incredible, and I've also noticed that my recovery time has shortened. Highly recommended!"
Love it so much
"I've been struggling with high blood pressure, and my doctor recommended trying Citrulline supplements. After incorporating Citrulline 1000 mg into my daily routine, I've noticed a positive change in my cardiovascular health. My blood pressure has become more stable, and I feel more energized throughout the day. It's truly a game-changer for me!"
Great Product
"As an athlete, I'm always looking for ways to enhance my performance naturally. Citrulline 1000 mg has become an essential part of my supplement stack. Not only does it provide me with a great muscle pump during my workouts, but it also helps me recover faster, allowing me to push harder during my training sessions. It's definitely a must-have for any serious athlete!"