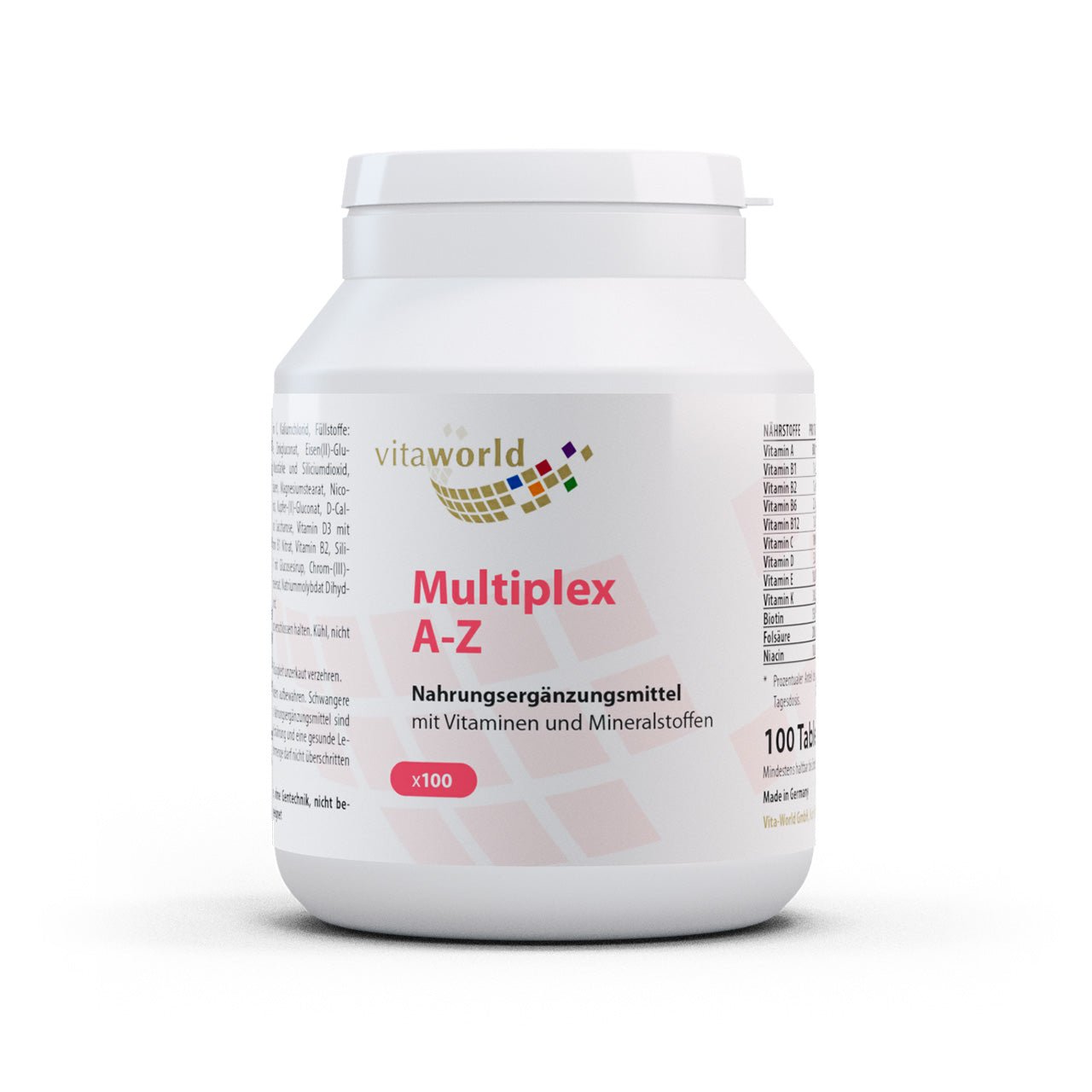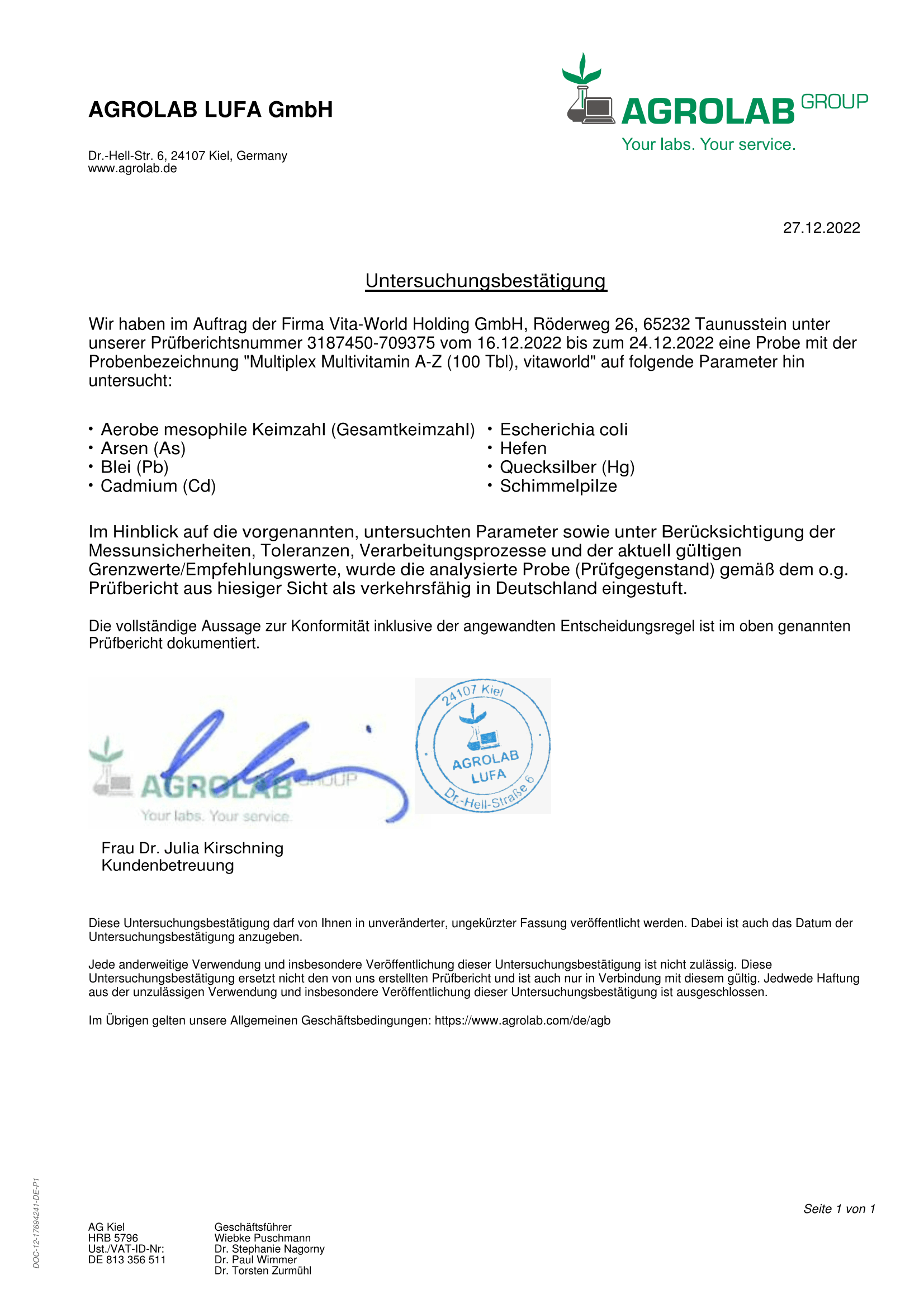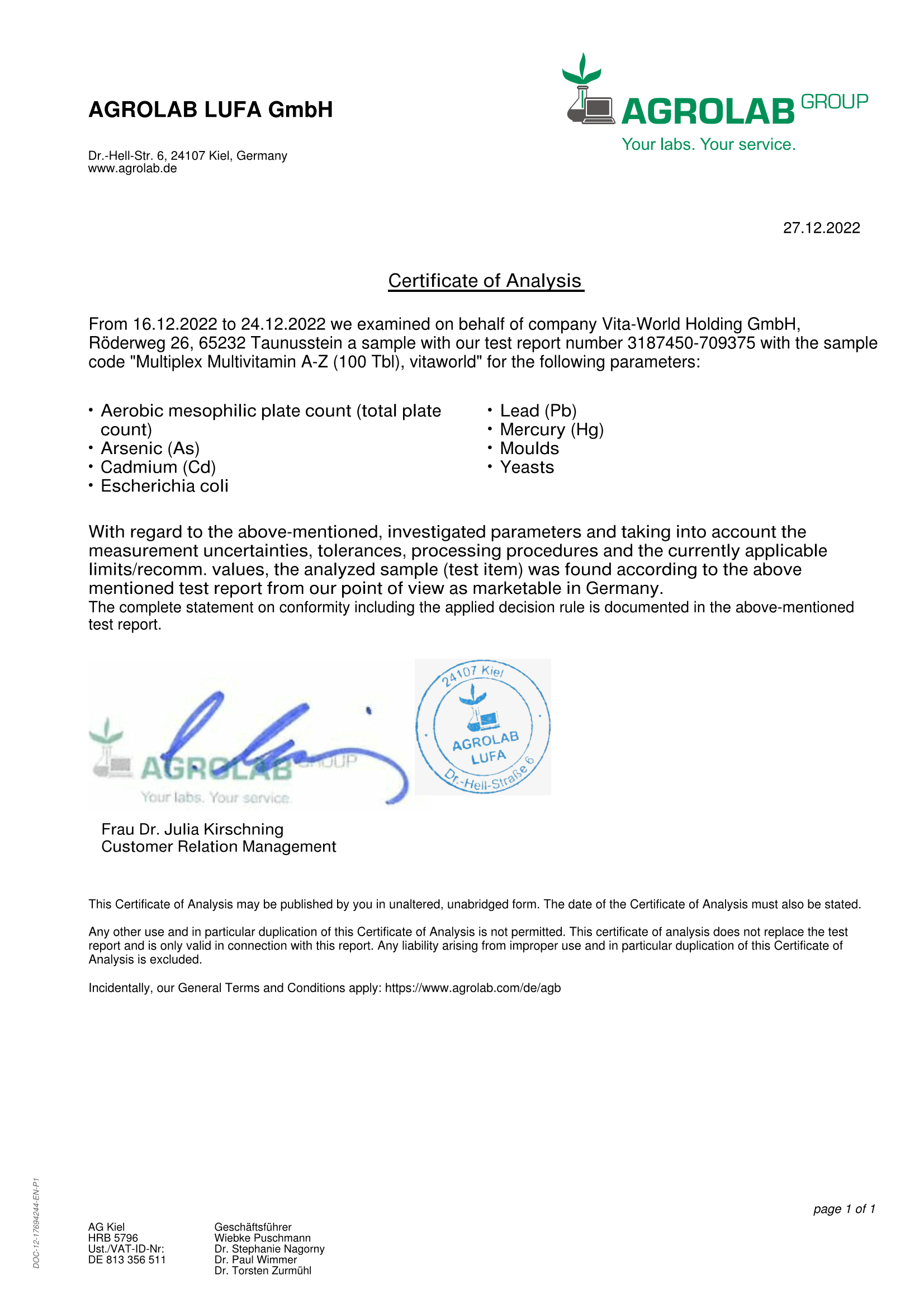 Multiplex Multivitamin A-Z (100 Tbl)
Translation missing: en.products.product.price.regular_price
€12,90
Translation missing: en.products.product.price.sale_price
€12,90
Translation missing: en.products.product.price.regular_price
€17,90
Tax included.
Voraussichtliche Zustellung:Oct 10 - Oct 14

Kostenlose Lieferung: für alle Bestellungen ab €200

Guaranteed Safe & Secure Checkout
Multiplex Multivitamin A-Z (100 Tbl)
Beschreibung
Versand
Produktbewertungen
Important vitamins and more - Multiplex A-Z

Multiplex A-Z contains a combination of the most important vitamins, trace elements and minerals that the human body needs for vital functions. Vitamins are organic compounds that must be ingested with food, but are not used as a source of energy. They are essential for numerous processes in the human body, for example they regulate the utilization of protein, carbohydrates and minerals, protect the body from free radicals and are required for the construction of cells, hormones and enzymes.
Sufficient intake of various vitamins is also extremely important for the nervous and immune systems as well as for muscles, skin, teeth and bones. With the water-soluble vitamins B1, B2, B6, B12, C, biotin, niacin, pantothenic acid and folic acid as well as the fat-soluble vitamins A, D, E and K, Multiplex A-Z contains all the important vitamins that the body needs. In addition, Multiplex A-Z contains numerous active ingredients such as minerals and trace elements that support the effect of the vitamins and are also essential for the functions of the human body.
The individual need for vitamins varies and is also dependent of the physical constitution, health, of strain and stress. Since the vitamin content of many foods has dropped in some cases in recent years and a vitamin deficiency can negatively affect many bodily functions and possibly even lead to serious health consequences, an adequate intake of all important active ingredients is particularly important. Here Multiplex A-Z can help to cover the individual daily requirement of the most important vitamins, trace elements and minerals.
Alle Bestellungen werden in der Regel innerhalb von 3 Werktagen bearbeitet. An Sonn- und Feiertagen werden keine Bestellungen versandt oder zugestellt.
Unser bevorzugter Lieferant ist DHL. Die Versandkosten für Ihre Bestellung werden an der Kasse berechnet und angezeigt. Wir akzeptieren Rücksendungen bis zu 14 Tage nach der Lieferung, wenn der Artikel unbenutzt und in seinem ursprünglichen Zustand ist. Wir erstatten Ihnen den vollen Bestellwert.