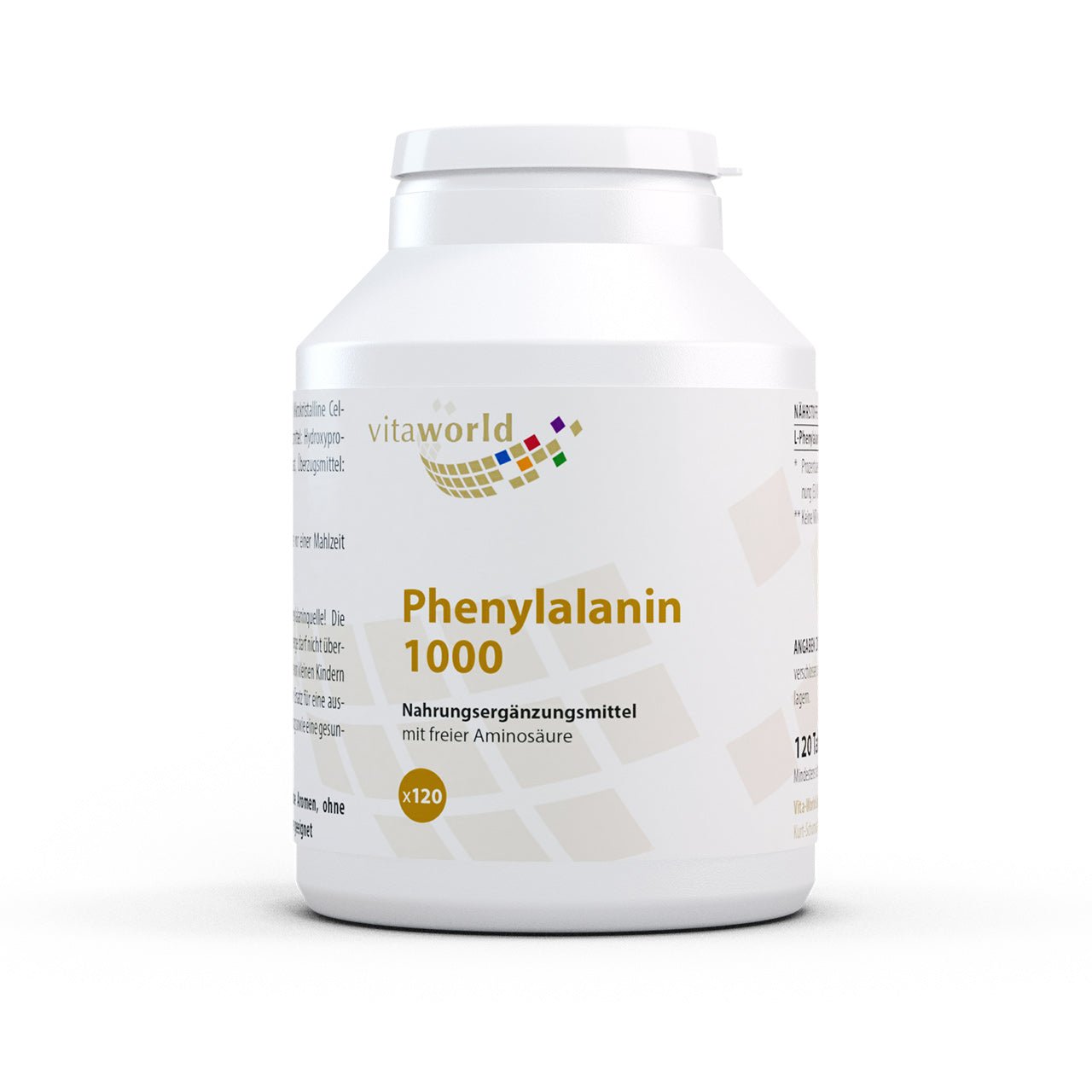 Phenylalanine 1000 mg (120 tab)
Translation missing: en.products.product.price.regular_price
€21,90
Translation missing: en.products.product.price.sale_price
€21,90
Translation missing: en.products.product.price.regular_price
€24,90
Tax included.
Voraussichtliche Zustellung:Dec 11 - Dec 15

Kostenlose Lieferung: für alle Bestellungen ab €200

Guaranteed Safe & Secure Checkout
Phenylalanine 1000 mg (120 tab)
Beschreibung
Versand
Produktbewertungen
For proteins and messenger substances - phenylalanine


Phenylalanine is one of the essential, i.e. indispensable, amino acids that must be consumed in sufficient quantities with food. It is the starting material for the formation of important messenger substances such as dopamine, serotonin and norepinephrine, which promote memory and mental agility. The proteinogenic amino acid phenylalanine is on the one hand a building block of many proteins, on the other hand it is the precursor of the amino acid tyrosine, which contributes to the synthesis of the body's own proteins such as insulin and melanin.
The main suppliers of phenylalanine include Primarily vegetables - especially soy, tomatoes and carrots - but also dairy products, meat and fish are important suppliers of phenylalanine.
Due to legal requirements, we are unfortunately not allowed to provide any information about the use and effects of our products. Please find out more from your doctor or alternative practitioner or in specialist literature and on specialist websites on the Internet.
Alle Bestellungen werden in der Regel innerhalb von 3 Werktagen bearbeitet. An Sonn- und Feiertagen werden keine Bestellungen versandt oder zugestellt.
Unser bevorzugter Lieferant ist DHL. Die Versandkosten für Ihre Bestellung werden an der Kasse berechnet und angezeigt. Wir akzeptieren Rücksendungen bis zu 14 Tage nach der Lieferung, wenn der Artikel unbenutzt und in seinem ursprünglichen Zustand ist. Wir erstatten Ihnen den vollen Bestellwert.