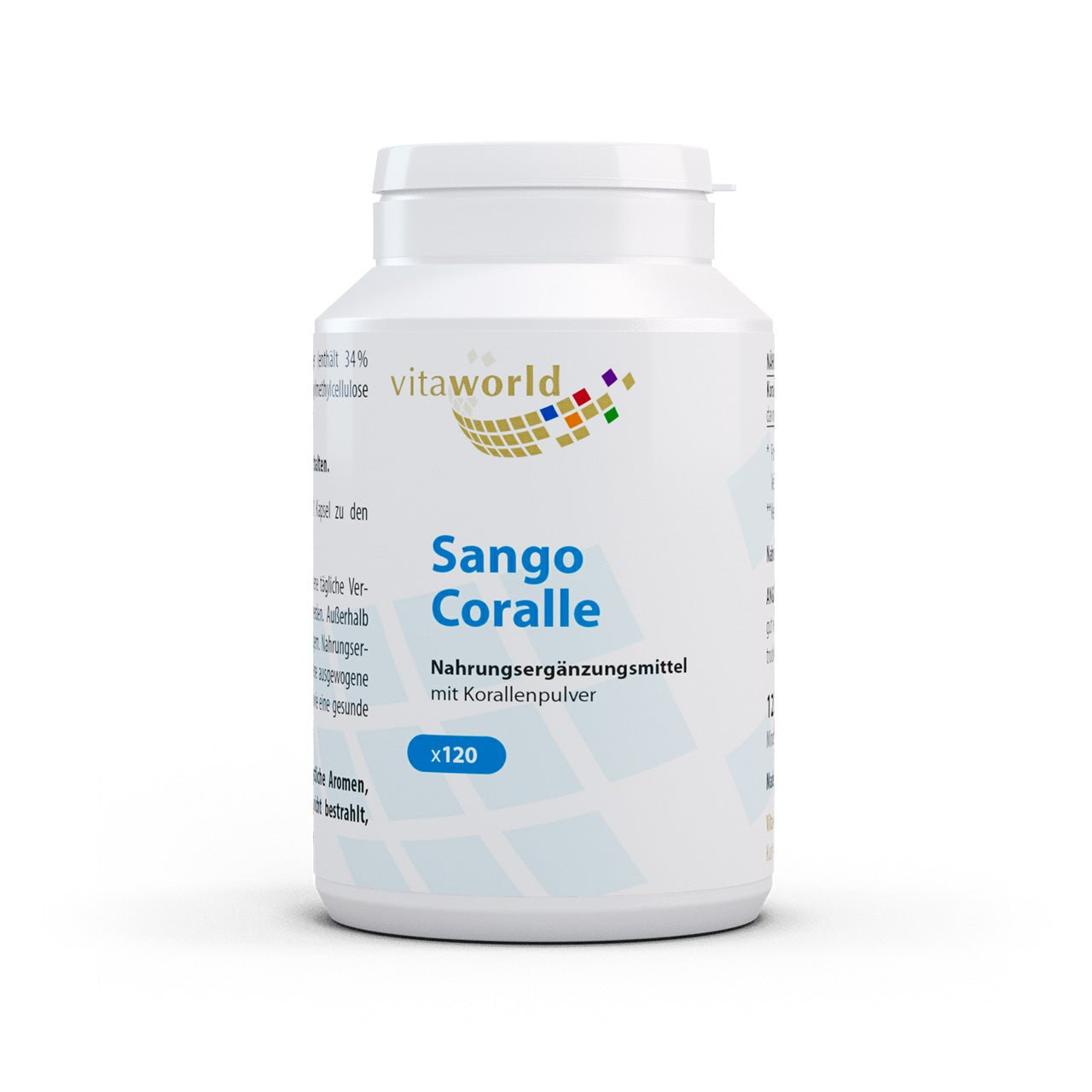 Sango coral 500 mg (120 caps)
Translation missing: en.products.product.price.regular_price
€19,90
Translation missing: en.products.product.price.sale_price
€19,90
Translation missing: en.products.product.price.regular_price
€24,90
Tax included.
Voraussichtliche Zustellung:Oct 10 - Oct 14

Kostenlose Lieferung: für alle Bestellungen ab €200

Guaranteed Safe & Secure Checkout
Sango coral 500 mg (120 caps)
Beschreibung
Versand
Produktbewertungen
Vitality from the sea – Sango Coral
The Sango sea coral is a type of coral that is only found near the Japanese island of Okinawa in the South China Sea. The special feature of this coral is the naturally contained calcium. It occurs in the Sango Coralle in a form that the human body can utilize particularly effectively.

This high bioavailability of the valuable minerals distinguishes the Sango Coralle from other sources of minerals. This unique property also seems to be the reason why the inhabitants of the island of Okinawa live longer than average  The drinking water of the island flows through a former coral reef of this special type of coral and absorbs many of its valuable minerals and trace elements. Since this special drinking water is the only difference to the diet of the inhabitants of other Japanese islands, the Sango sea coral is considered a fountain of youth.

Calcium contributes to normal signal transmission between nerve cells, the normal function of digestive enzymes and energy metabolism and is required for the maintenance of bones and teeth.
Due to legal requirements, we are unfortunately not allowed to provide any information on the use and effects of our products. Please find out more from your doctor or non-medical practitioner or from specialist literature and specialist websites on the Internet.
Alle Bestellungen werden in der Regel innerhalb von 3 Werktagen bearbeitet. An Sonn- und Feiertagen werden keine Bestellungen versandt oder zugestellt.
Unser bevorzugter Lieferant ist DHL. Die Versandkosten für Ihre Bestellung werden an der Kasse berechnet und angezeigt. Wir akzeptieren Rücksendungen bis zu 14 Tage nach der Lieferung, wenn der Artikel unbenutzt und in seinem ursprünglichen Zustand ist. Wir erstatten Ihnen den vollen Bestellwert.