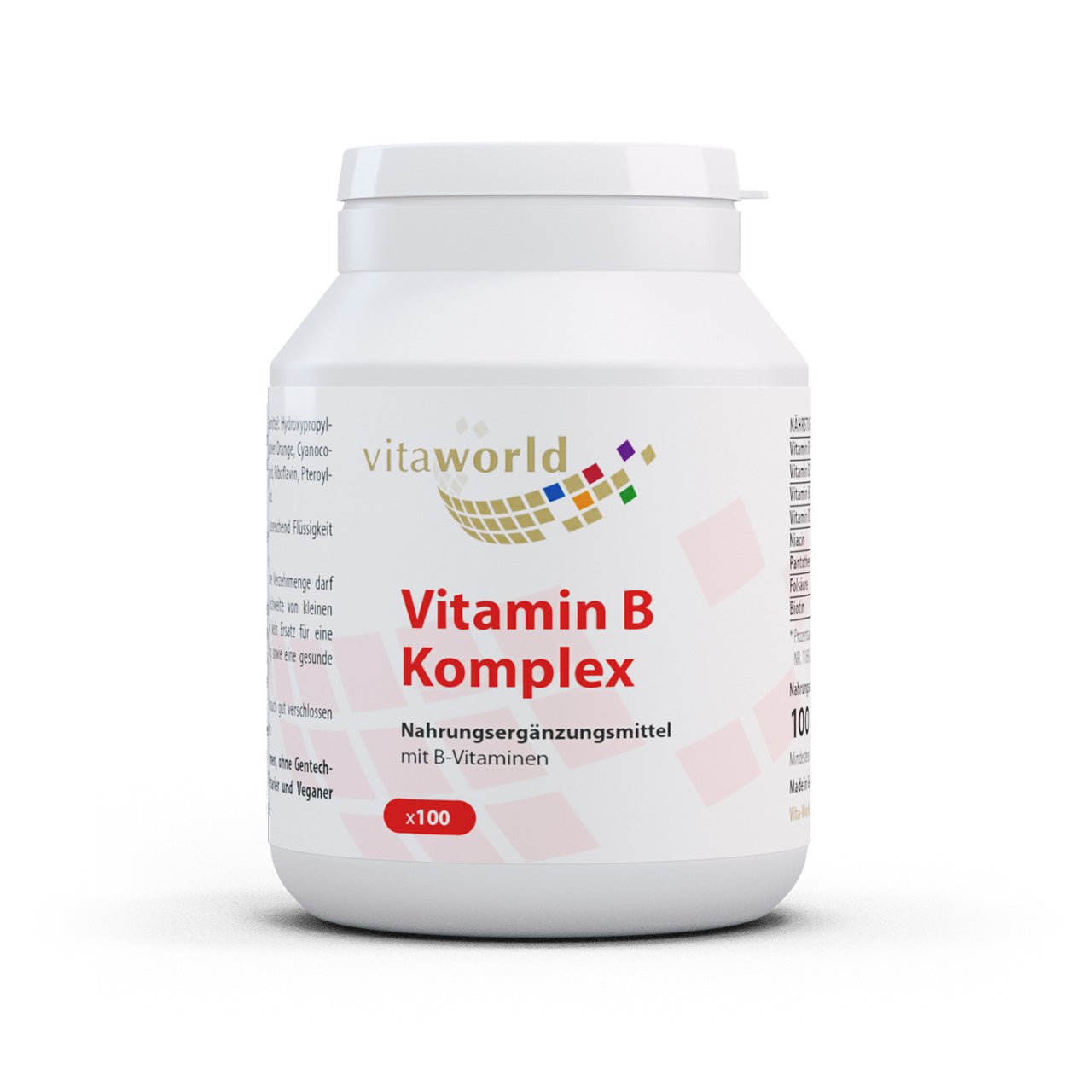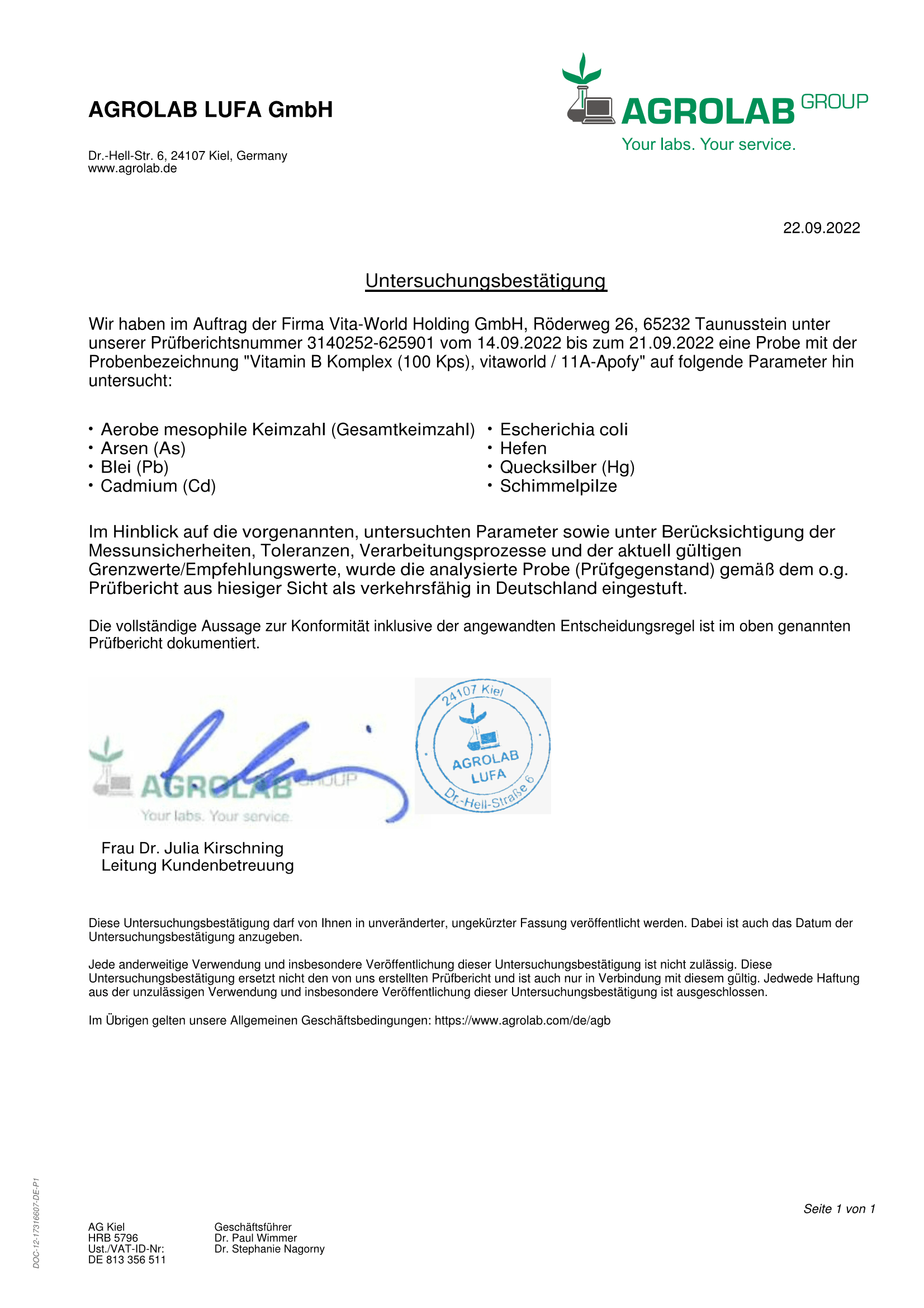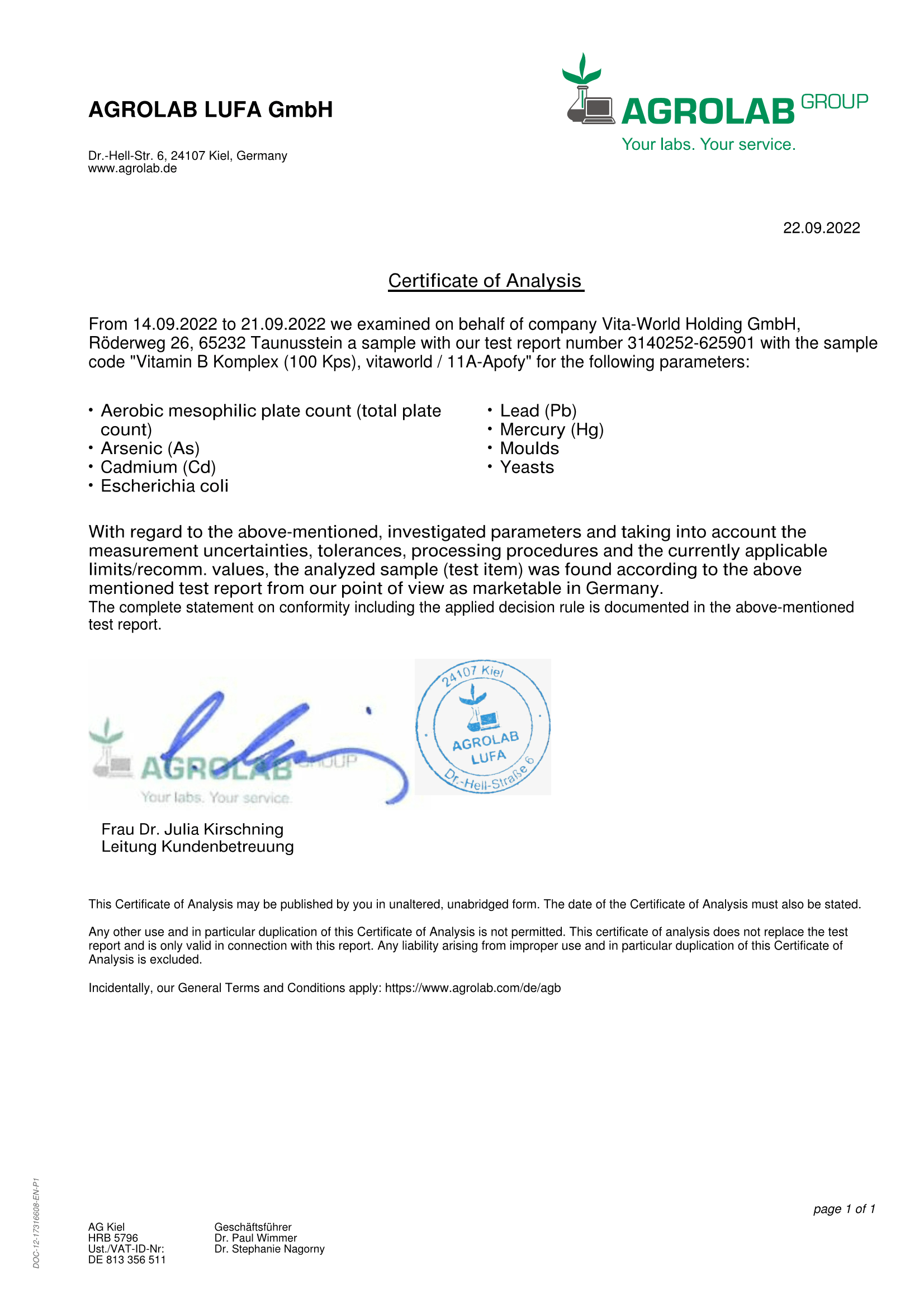 Vitamin B complex (100 caps)
Translation missing: en.products.product.price.regular_price
€12,90
Translation missing: en.products.product.price.sale_price
€12,90
Translation missing: en.products.product.price.regular_price
€16,90
Tax included.
Voraussichtliche Zustellung:Dec 11 - Dec 15

Kostenlose Lieferung: für alle Bestellungen ab €200

Guaranteed Safe & Secure Checkout
Vitamin B complex (100 caps)
Beschreibung
Versand
Produktbewertungen
All B vitamins at once – vitamin B complex
Our vitamin B complex contains all eight B vitamins: B1 (thiamine), B2 (riboflavin), B3 (niacin), B5 (pantothenic acid), B6 ​​(pyridoxine hydrochloride), B7 (biotin), B9 (folic acid) and B12 (Cyanocobalamin). All B vitamins are water-soluble vitamins and have the advantage over fat-soluble vitamins that they cannot normally be overdosed - overdosed vitamins are simply excreted via the kidneys in the urine.

The functions of the B vitamins are closely linked to each other. Most fulfill important tasks in cell metabolism and energy production. Some of them are particularly important for this - without the essential co-enzymes B1, B2, B3 and B5, catabolic energy production is not possible and a lack of these vitamins can result in serious health problems.

The numerous interactions between the Despite each other, each of the B vitamins has its own area of ​​responsibility. Vitamins B1 and B6 are needed to release energy from the carbohydrates stored in the muscles, B3 and B12 play an important role in the normal functioning of the nervous system, B5 and B9 are of great importance for mental and cognitive performance and vitamin B2 supports red blood cells and iron metabolism. Lots of good reasons to keep an eye on your vitamin B levels.
Due to legal requirements, we are unfortunately not allowed to provide any information about the use and effects of our products. Please find out more from your doctor or alternative practitioner or in specialist literature and on specialist websites on the Internet.
Alle Bestellungen werden in der Regel innerhalb von 3 Werktagen bearbeitet. An Sonn- und Feiertagen werden keine Bestellungen versandt oder zugestellt.
Unser bevorzugter Lieferant ist DHL. Die Versandkosten für Ihre Bestellung werden an der Kasse berechnet und angezeigt. Wir akzeptieren Rücksendungen bis zu 14 Tage nach der Lieferung, wenn der Artikel unbenutzt und in seinem ursprünglichen Zustand ist. Wir erstatten Ihnen den vollen Bestellwert.