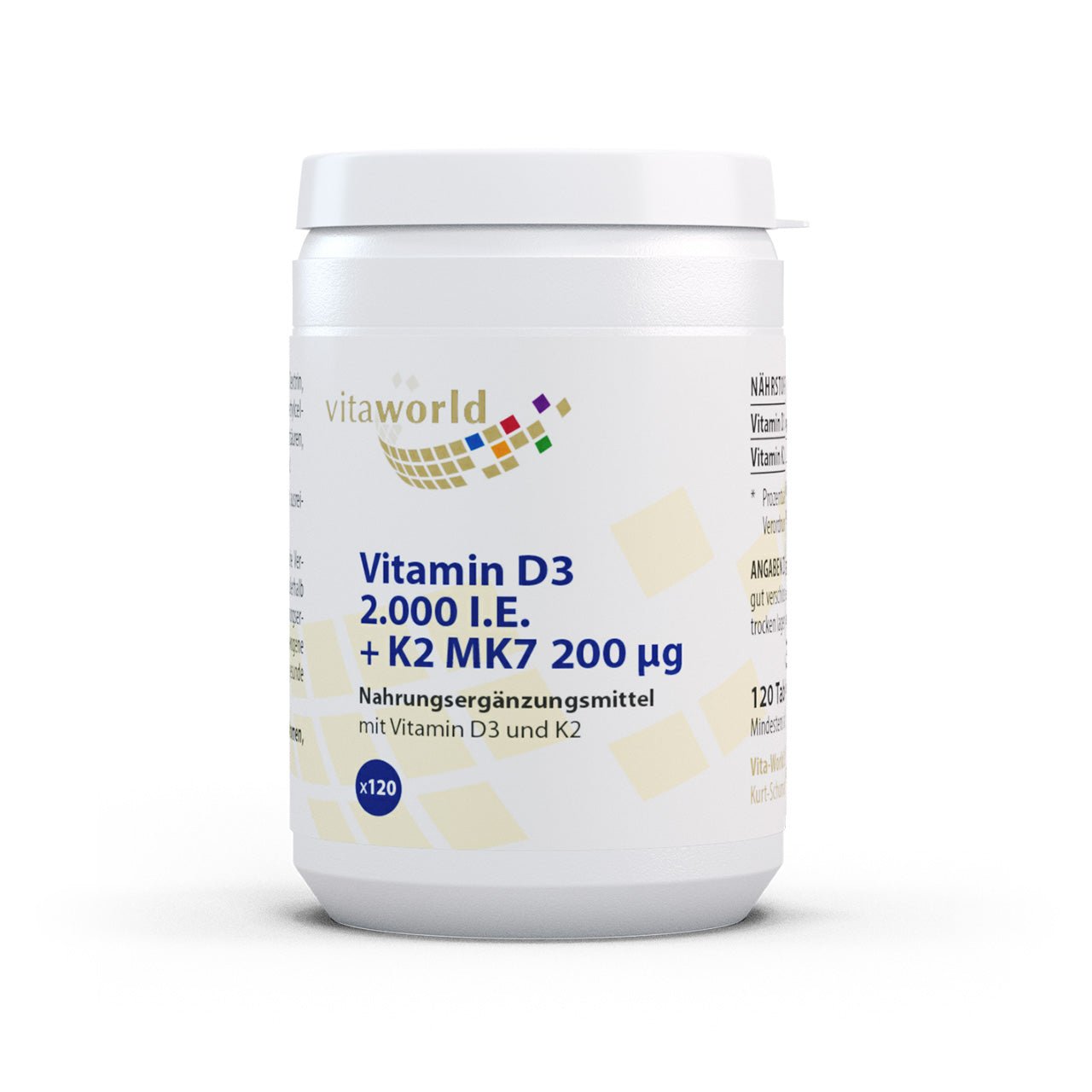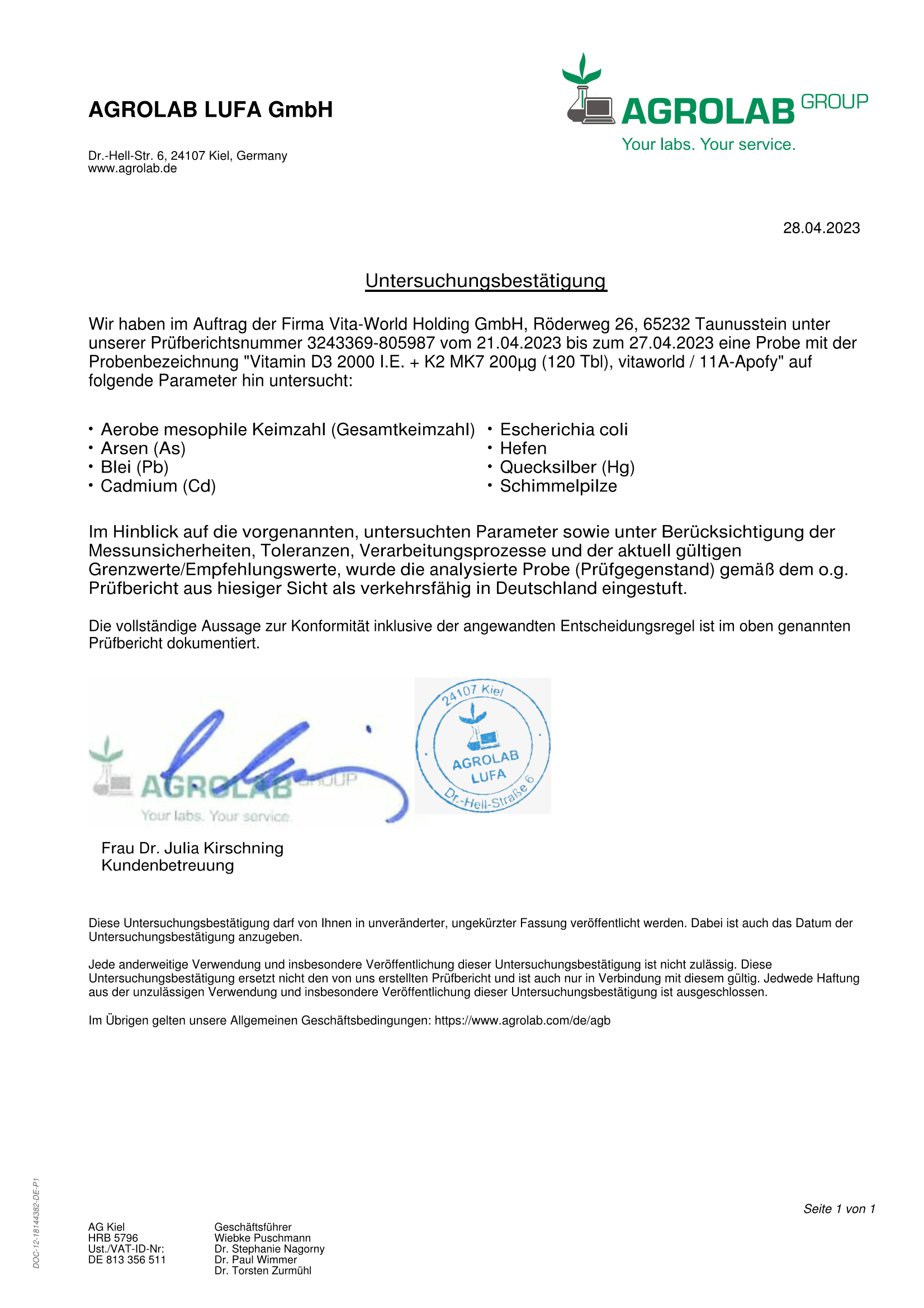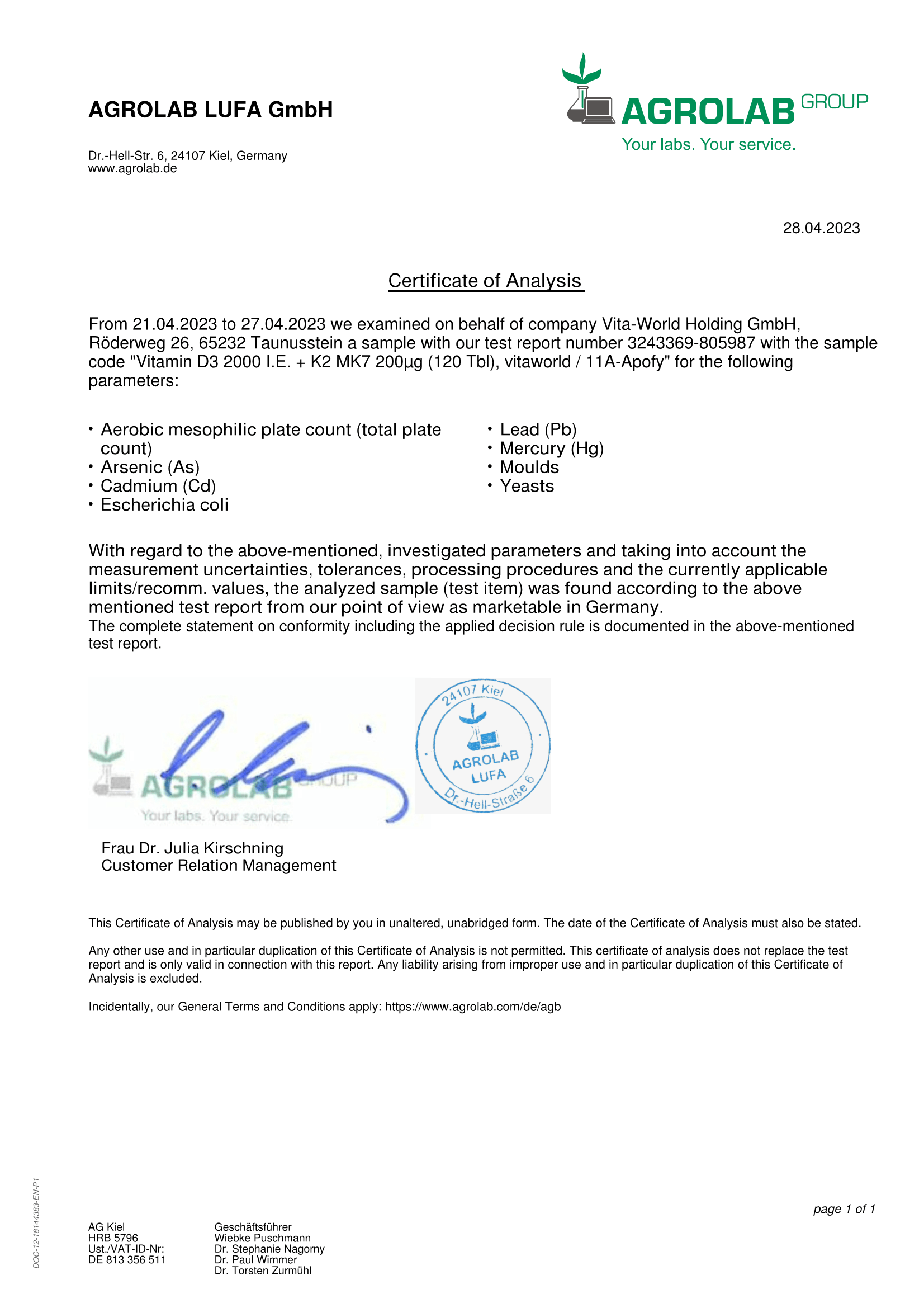 Vitamin D3 2000 IU + K2 MK7 200 µg (120 Tbl)
Translation missing: en.products.product.price.regular_price
€21,90
Translation missing: en.products.product.price.sale_price
€21,90
Translation missing: en.products.product.price.regular_price
€26,90
Tax included.
Voraussichtliche Zustellung:Dec 11 - Dec 15

Kostenlose Lieferung: für alle Bestellungen ab €200

Guaranteed Safe & Secure Checkout
Vitamin D3 2000 IU + K2 MK7 200 µg (120 Tbl)
Beschreibung
Versand
Produktbewertungen
An optimal team – vitamin D3 2000 IU + K2 MK7 200 µg
Vitamin D is a very special vitamin - in several ways: It belongs to the group of fat-soluble vitamins and can therefore be stored in the body, in contrast to water-soluble vitamins. Since fat-soluble vitamins are absorbed along with fats, concomitant consumption of fat can therefore increase the absorption of these vitamins. However, this also means that people who eat very low-fat foods only get small amounts of these vitamins into their bodies. In addition, vitamin D is the only vitamin that can be produced by the body itself - through sunlight.

Vitamin D is important for numerous metabolic processes. To do this, however, it must first be converted into a usable form in the skin, liver and kidneys, the so-called calcitriol (1,25-dihydroxycholecalciferol). The vitamin D hormones, known as calcitriol derivatives, are primarily needed in the intestines and kidneys as well as in bones, muscles and nerves. They influence the calcium and phosphate balance and ensure adequate absorption and storage of calcium. But the prohormone also plays an important role in numerous other biological processes, especially in connection with the immune system.

With vitamin K, a distinction is made between the two forms K1 (phylloquinone) and K2 (menaquinone). They are among the essential, fat-soluble vitamins, although the body can produce very small amounts of vitamin K itself. Vitamin K2 is considered the more valuable of the two. On the one hand, because, in contrast to K1, it also has anti-inflammatory properties, and on the other hand, because it seems to have a more important function than K1 for the health of bones, cartilage and blood vessels and is also distributed more quickly throughout the body.

Exactly The combination of vitamin D and vitamin K plays an important role in bone health. Vitamin D's role in bone mineralization is to form the protein osteocalcin. Vitamin K2 is necessary for the activation of this protein. Osteocalcin activated by vitamin K can bind calcium and thus promote bone formation.
Alle Bestellungen werden in der Regel innerhalb von 3 Werktagen bearbeitet. An Sonn- und Feiertagen werden keine Bestellungen versandt oder zugestellt.
Unser bevorzugter Lieferant ist DHL. Die Versandkosten für Ihre Bestellung werden an der Kasse berechnet und angezeigt. Wir akzeptieren Rücksendungen bis zu 14 Tage nach der Lieferung, wenn der Artikel unbenutzt und in seinem ursprünglichen Zustand ist. Wir erstatten Ihnen den vollen Bestellwert.